Trip Report by Turtleboy
Wind: Westerly, gentle in close, 12 knots out wide
Swell: Small
Water conditions: Clear
Launch point: Middle Groyne
Participants: Jimbo, Stormin, Kahuna, Sunshiner, Turtleboy
I arrived at the carpark a little after 7am to find Stormin in the number one position next to Jimbo's Subaru. Rob had just finished unloading his new Barracuda Ultralite. Kevin arrived a few minutes after me complaining about someone being in his favourite parking spot. Well, it was cold and it was his birthday so he was allowed to have a grizzle. Happy Birthday Kev !
After we unloaded, Kahuna, Sunshiner and I dragged our kayaks onto the beach where the following scene welcomed us. Kahuna was itching to go, so he had paddled out a little before Sunshiner took this photo. If you look closely you can see his trail in the sand.
Woohoo said Kevin, dry bum launch today.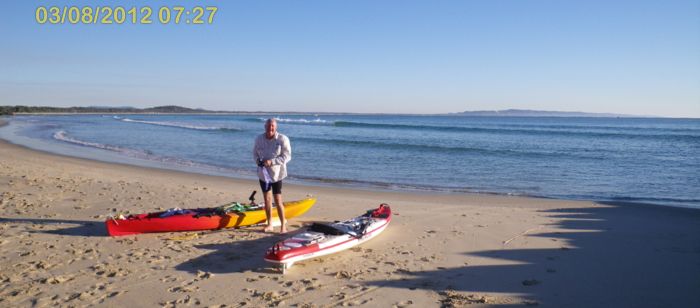 We all made it out through the zone and began to rig up, whilst Kevin placed a radio check with Jimbo. According to my calculations, Jimbo and Stormin had launched around 6.45am as they were just arriving at the western edge of Jew Shoal. Jim advised that the wind was gusting up to an estimated 10+ knots which was confirmed by the interference across the microphone on his VHF radio. After some discussion we agreed it was better to rendezvous within the relative shelter on Little Halls Reef.
Due to the wind, it would have been an easier paddle from MG than from JS. Sunshiner, Kahuna and I arrived ahead of the other and set up our drift positions with drogues deployed due to the strength of the wind. We were averaging approximately 1.5 klms drift out of the West. Jimbo and Stormin arrived a little later and joined in.
I was first to strike with a small (38cm) but legal snapper followed by Kahuna's larger snapper. All of this activity happened within the first hour of our arrival, only to be followed by quiet times. I subsequently boated a 35 cm snapper which I returned to the bay as it was right on the limit. Perhaps very luckily as we saw the fisheries patrol boat on our return to MG later in the morning.
After a while, Jimbo announced that he would head a little further north towards Halls Reef. The remaining four continued around Little Halls before Sunshiner decided he was cold enough and it was time to go home. We all agreed and notified Jim. On the return trip, Jim radioed in to announce he was headed home also. Jim, any updates for the report?
It was a relatively easy and uneventful paddle home to MG, followed by an easy wave back to shore at around 11.15am.
Photo of snapper below.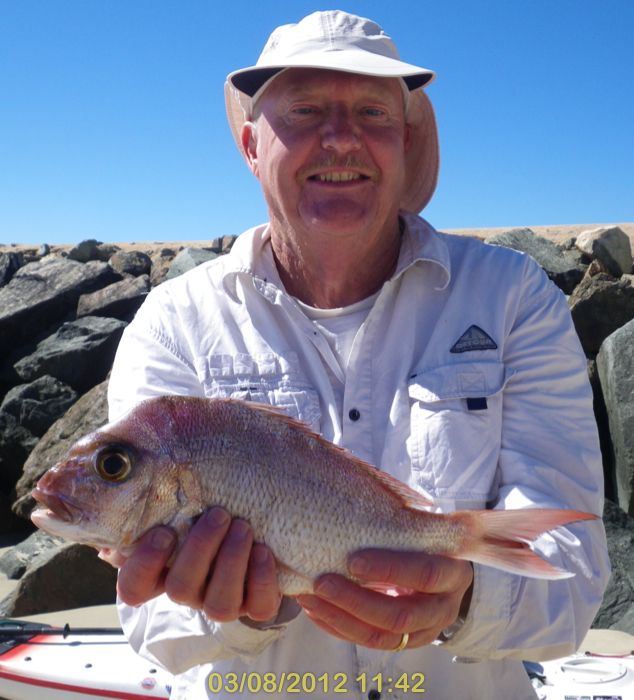 Pic by Sunshiner
TurtleBoy