TR by sunshiner with contribution by Richmond at the end
Wind: Westerly, to 8 knots
Swell: almost none
Current: at JS, none
Launch point: Middle Groyne
Participants: eyetag, richmond, whalebait, tarzan (+2), kahuna, beejay, stormin, gemini, mangrove-mac (first trip), stretch, sunshiner
This TR will be in two parts, with Richmond covering the early starters/SR guys and I the Jew Shoal guys. Tarzan may be able to provide some info on his trio who travelled independently and turned up at JS after some touring.
An early morning email from mangrove-mac indicated that he would be at Middle Groyne for a 0700 launch so I opted to wait for him and show him the ropes, especially as he had a bad experience the first time he tried to join us and we didn't know he was coming.
The cars rolled in, and the yaks were unloaded and trundled off to the beach. Except for beejay of course who trundled his yak from his Hastings Street overnight accommodation. The early shift headed for SR and would have been there by the time I got to the carpark. One of the great things about kayak fishing is that no one has to depend on anyone else to get going and that's the way it was this morning, with individuals and small groups launching as they were ready. Launch was easy, of course.
Kahuna, a Noosa Yakker who joined us in July, launching on his third trip already.
Mangrove-mac duly turned up (from Gympie) and to my surprise I recognized him. It turns out that we knew each other in Brisbane about 20 years ago.
There was a small delay on the beach when mangrove realized his paddle wasn't there at launch time. I was wondering how he was going to get to Jew Shoal but didn't like to pry. A short journey back to his car fixed this minor matter and soon we were launched and heading for Jew Shoal.
As we approached the shoal I could see a flotilla of small boats out there, about four stinkies and the rest kayaks, all clustered near the Pinnacles. Fortunately I'd headed for the western edge because of the westerly breeze so there was enough space for mangrove and me to cast our SPs.
The drift was perfect but the fish just weren't there or weren't biting. Other than one significant fish, the crew out at SR weren't doing any good either. Intermittent and solitary splashes all over the shoal indicated the presence of mac tuna but other than this there was little sign of fish. Stretch bagged a bonito, beejay a nice grassy about 45cm and stormin knocked off a mac tuna. My drifts were barren and I don't think anyone else out there caught anything of note (but would be interested to hear if I'm wrong).
At one stage I noticed that tarzan was coming toward me so I yelled out a greeting to him only to find it was not tarzan but his brother, who, on closer examination has much more hair, but the same hat and the same yak tarzan was in last time I saw him. Aidan pointed out tarzan in the near distance, his familiar back pack on now that he was back on his submersible ski.
After near two hours of fruitless working of the SP without even a touch I announced my intention to head off back to the beach. Besides, it was cool out there, with the westerly still banging on.
At this stage I knew that the SR crew was working its way back to Middle Groyne also so I planned to RV with these hardy souls on the beach. And we timed it really well with eyetag, whalebait and richmond hitting the beach right behind me.
Carlton, though not a participant today, was standing on the end of the groyne with camera, no doubt hoping to photograph some poor bugger getting smashed. Of course, no chance today Carlton, and everyone cruised in as if we were coming ashore at Lake McDonald. Carlton did take a nice beach pic, however.
Several of us assembled on the beach. Pic by Carlton.
I understand from carlton that tarzan's trio had already returned so didn't get a chance to talk with him and them.
The one significant and magnificent fish was shown around, drooled over and measured and found to be a record. But I'll let Richmond and anyone else closely involved with that event tell that story.
Well, we had the fish outnumbered today but it was still a great day on the water. Thanks for coming along guys, and see you next time.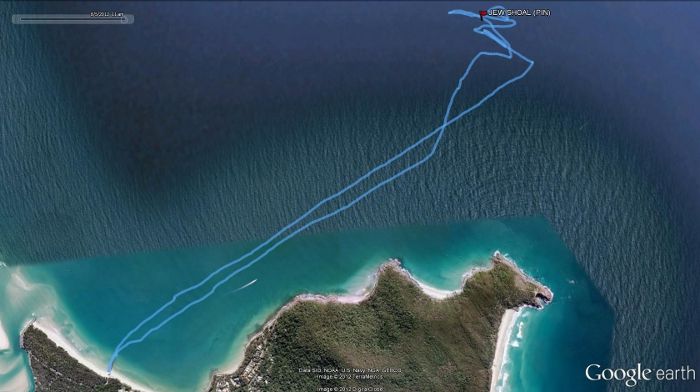 Gemini's GPS track map from Jew Shoal.
---
Eyetag's Coral Trout by Richmond
I pulled into the Middle Groyne car park at about 5.15am to see a ute parked in Eyetag's preferred spot.
I readied my yak and launched about 5.30am then I jumped on the radio and called Eyetag to see if it was in fact his car. I made contact with Ian who had launched at 4.45am. He was at A-Bay heading to Sunshine Reef. I told him I was heading to Sunshine also and that I'd see him soon.
It was a nice paddle out with the 5/10 knot westerly wind at my back. After rounding the headland I aimed for the northern end of Sunshine Reef. Ian was a little to the north. When we made contact he came in closer and we fished together in the general area of A-Bay Reef.
Things were pretty slow, the wind was gusting to 10/12 knots at times, there wasn't any current to speak of but the wind made it a little difficult.
Ian was getting a few bites here and there. He managed a keeper Squire and a nice Flounder, he also picked up a small Maori Cod and a good size Eastern Scorpion Cod.
I decided to add more weight to my floating prawn bait. I had instant success with a few bites, I then boated a small but legal Venus Tuskfish.
It was then that I heard Ian's whoops of joy. "It's a Trout, it's a Trout!" The fish whisperer had struck again.
I went over to take a few photos, it was a beautiful fish, 58cm long. Ian was rapt, and I was rapt for him. A new Noosa Yakker record and Ian's first coral trout out of the yak. Well done mate, top fish.
After that excitement we continued fishing for no more joy. We got a few touches on our soft plastics but the gold old prawn caught the fish today. We decided to call it a day, Whalebait joining us for the paddle back in to the beach where we were met by a very flat and high tide beach landing.
Another nice day on the water, when are we going next?
Jeff (richmond)