Subject:Fishing today -- 22Apr11
From:Sunshiner
Date:22/04/2011 1:15 PM
Weather
Cloud cover: cloudless, mainly
Wind direction & speed: southerly, 5knots
Sea state: small swell
Current: at LH Reef strong current (2.5kph, running toward north)
Participants: Jimbo, Jaro, Doctor Dog, Imax, Kodaz, Gemini, Richmond and Sunshiner and Eyetag, later. Apologies to anyone who attended but didn't get a mention.
This will be a quickie as I've got a pile of other stuff to do today.
The unusual combination of a public holiday and calm weather was savoured by all, especially those who have to go to work in normal working hours. Jaro had returned from his lengthy overseas trip, and Doctor Dog is back in Noosa for a few days.

0601hrs. Launch time -- glorious conditions. Jaro paddles out.
There seemed to be heaps of yaks out there today, the majority members of our little band. I and several others opted to head for the Little Halls Reef area, based on information derived from recent Trip Reports. At first there was little action but then the birds started to accumulate and then, as we neared LH Reef, more and more splashes could be seen. 500m east of LH Reef I was paddling along with longtails of a metre long free jumping, their bodies glistening with silver in the early sunlight.
I opted to try for a snapper at LH Reef, despite the somewhat murky water, and had one good run which was probably a decent snapper but the hook dislodged after about 30 seconds of action. Then the radio calls started to come in. Richmond was hooked up, then Gemini, who hooked up and then the fish spat the lure out. Shortly afterward Doc Dog also announced that he had a solid tuna on.
While drift fishing across the reef I noticed, from my GPS, that there was a strong northerly current running. This current became significant later.
Doc Dog and Richmond had both boated their fish and opted to head for home (MG). As I was on their track to MG they both offered a chance to get an on-water pic of both fish.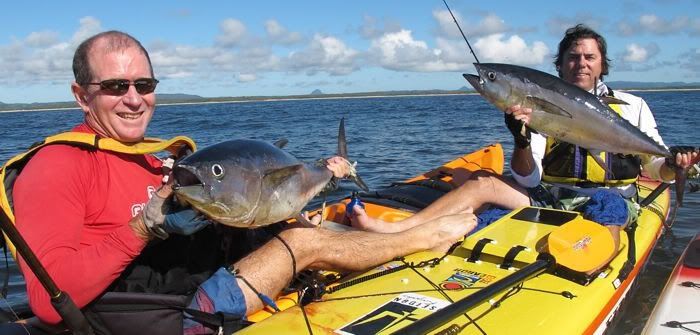 So here it is, between LH Reef and Halls Reef. One for the Blog, Harvey?
We'd stopped for only a few minutes to take the pic then I (still fishless) also decided to head for MG, with Doc Dog and Richmond. As I usually do, I selected MG as my next waypoint on the GPS, expecting it to be around 3.7km away. The current now showed its effect. The distance was in fact 4.85km! So now we were facing at least a one hour paddle as the current was clearly running at least 2kph against us. Also in my mind was the possibility that the wind might spring up from the south earlier than forecast, making the journery back even worse. It was quite a slog back but fortunately the wind stayed at less than 5 knots. We three paddled hard for an hour pretty much non-stop (for to stop meant travelling back along the track at 2.5kph) and eventually bumped into eye-tag just as he was leaving MG for Halls Reef area.
Imax was on the crowded beach when I landed (I'd caught a nice little wave on the way in) and he told me he'd caught and released a longtail and a mac tuna. Jaro paddled in shortly afterward and announced that he'd lost a longtail (and lure).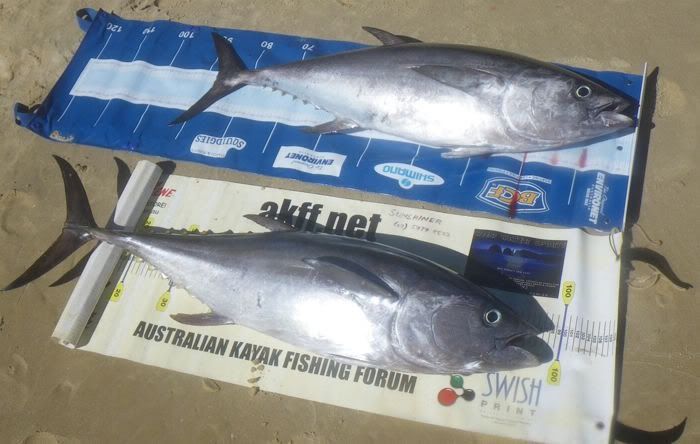 The two tuna on measure mats. They were almost identical in length -- each just short of 100cm.
I don't know how Jimbo went as he wasn't back in by the time we left the car park. Jimbo please let us know how things were at JS.
Thanks for coming along guys.
Kev
Red & white Stealth Supalite, black paddle
VHF channel 09 or 22 (if alone), Call Sign: sunshiner
http://www.noosayakkers.blogspot.com/
Dan's update
Well said Kev. I have a couple of photos that I thought might be worth sharing.
The first one is just after launching where I managed to capture 5 of us heading out.

This second one is of the Mack tuna that I landed. It was a good size being just over 80cms and very very thick but it was covered with parasites. They are a bit hard to see but all the little black dots were parasites.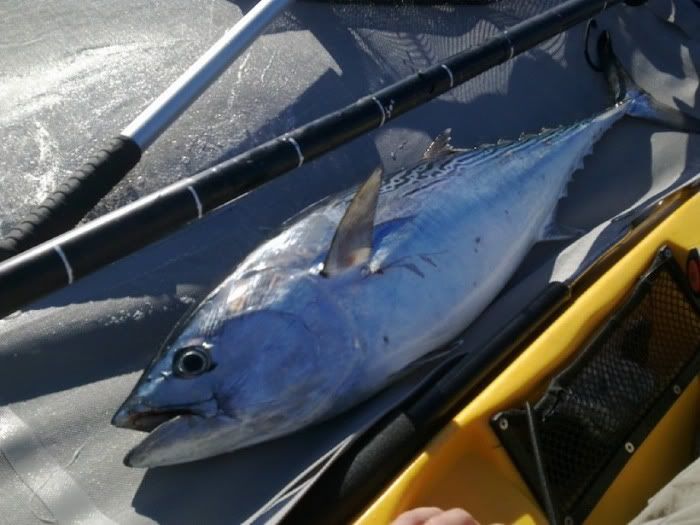 Regards
Dan
Jimbo's report
G'day Yakkers,  
Further to Sunshiner's report,  
I also initially opted for Lt Halls, taking a circuitous route via the river mouth and the lower north shore in the hope there would be pelagics hanging around.  On arrival at LHR, there were longtail tuna feeding randomly all over the place but there were few if any cumulated boils you could cast a slug into.  I tried bottom fishing for a bit but the water was quite discoloured and it quickly became apparent there was a very strong "two layer" current operating  making it practically impossible to get a bait down to the bottom for longer than about a minute with each cast.  I therefore decided to head for Jew Sh in the hope the water would be clearer and the current not so strong.   
At JS the water was considerably clearer but there was still a reasonably strong S>N current flowing, now assisted by an increasing southerly breeze.  However, everything seemed to go quiet around 0900 with very little surface activity, although I did have a couple of good bites on the casting line (with SP) and picked up a nice keeper snapper on a trailed pilchard.  
At about 1030 I decided to call it quits and started heading back to MG trolling a HB Rapala lure.  I had only gone about 500m when the trolled line started screaming.  This turned out to be a longtail which surrended fairly quickly after about a 10 minute tussle.  This tuna was about 1m long, virtually identical to the two caught by Dr Dog and Richmond, see Kev's pic below.  
After clearing the decks and stowing the tuna, it was about 1100 when I set out again for MG.  I initially decided not troll any more as I already had more fish than Josie and I could eat in a fortnight, but not having caught anything sizeable for many months, I thought after paddling about 500m  .... "What the hell.  If I hook another one I'll just release it after I've had a bit more fun"..... So I sent the trolled HB Rapala out again and had only gone another 100m when the lure got slammed again.   
Whilst I was certain this was another longtail, after 10 minutes it was pretty well straight below me but unsighted due to the discoloured water, and I was beginning to think I must have foul-hooked it because it just would not come up.  Long story short, after about 40 minutes of arm wrestling I decided one of us had to win so I put the extra pressure on this fish being prepared to loose it if necessary so I could get home at least by early afternoon.  This strategy worked and 10 minutes later I had a second longtail in the yak.  I must say, I was surprised to find it was hooked in the mouth and was virtually the same size as the first tuna.  Having fought this fish for so long I decided I would keep it and I was starting to think of, (a) the length of time it was going to take this afternoon to clean all this fish, and (b), all the people I could offer it to.  
Needless to say there was no other yakkers around when I finally landed back on the beach at MG at around 1230.   When I finally got home about 1330, I got Josie to take the following pic for me.    
The two tuna weighed in at 9.4kg and 9.7kg.  A very satisfying, if somewhat tiring day.  
Cheers
Jimbo