N Y trip report 29.11.2012
Wind: light NE less than 5 knots
Swell: half metre
Current: negligible
Launch point: middle groyne
Participants: Pedro , Doctor Dog, Weeksie, + unknown(Byrnes)
Paul Weeks was ready to launch when I reached the carpark just before 5 am and Pedro was already out of sight. We elected to head to JS as that had bee the site of some recent action. Paul headed off in that direction and I followed as soon as I was organised. The light nor easter was just ruffling the surface and quite a few power boats were heading out to make the most of the forecast good conditions.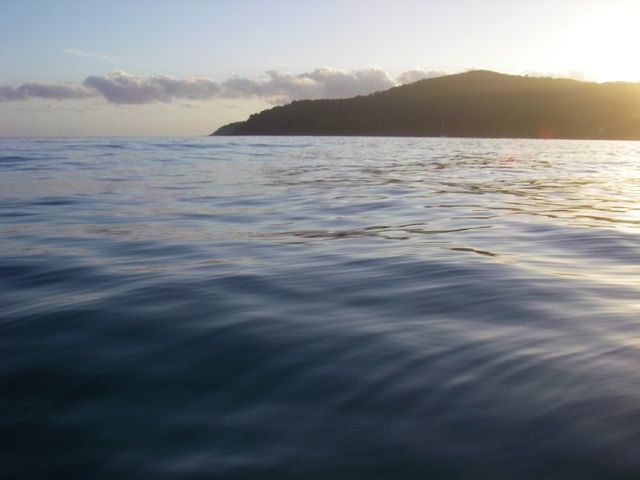 The small swell did not cause any problems with the launch and I was soon paddling towards JS.
There was little bird activity in the inshore waters but more could be seen as I neared JS. Radio contact as I neared the shoal verified that Pedro was there and had chased some birds to the east but as there was no takers for his trolled or cast offerings he returned to JS to drift & bottom bounce for Snapper and Sweetlip.
I was having a bob each way today with SP & pilchards. I had a couple of drifts from the NW of Jew shoal with the breeze and current taking us back to the south east. No activity - could not buy a bite. I saw many turtles and lots of bait flipping on the surface but no predators other than what I took for dolphins making a huge splash and noise then disappearing. I did not see what made the disruption I just heard the noise and looked behind me to see a huge boil.
I set off to the start of my drift leaving my unweighted pillie dragging along 10 - 15 metres behind as I paddled slowly back to where the birds were fluttering & dipping .
There was an enormous splash just behind me and my overhead with 50 lb braid started screaming in protest as one very fast angry large fish headed east. I battled round in circles for 30 minutes with what turned out to be a metre + ( estimate) of longtail tuna.
After 30 minutes he /she became tail wrapped and came meekly to the side of my yak hanging apparently spent and motionless with braid and leader wrapped round his body and tail stock. The head end was too far down in the water to get a gaff shot so I grabbed the tail stock in my left hand and tried to lift the fish for a better shot. It was then that all hell broke loose as this apparently spent fish got a second wind and I was unable to hold on or get a tail rope to bear on my quarry. The fish freed himself of the tail wrap and sped off again with renewed vigour. After another 5 minutes of charging runs and dogged circling the hooks pulled and the fish swam free.
I paddled slowly back to MG and had a easy surf into the beach and avoided the sand monster.
Lessons learned
Lesson 1 - keep the tail rope to hand as in Kev's book - salt in the wound as he has illustrated it with a pic of me with a tail rope on my Spaniard.
Lesson 2 - be patient don't put too much hurt on.
Lesson 3 - if the fish is tail wrapped, leave it that way and just put a tail rope on it to secure it and then put a gaff in it.
A great morning and yes the rest of the pelagic crew cannot be far away.
cheers,
Doc Dog