TR by TurtleBoy
Conditions; Large swell and high wind in the bay
Sheltered conditions in Noosa River.
Dropping tide
Owie and I decided on the Friday night if the wind and swell were up then we would meet at Lions Park and paddle in the river at first light. Whalerider had a big week entertaining clients so he opted for a sleep in and declined our offer to join us. Shortly after launching it started to rain and I realised that he probably made the right call, but within 10 minutes the showers cleared and we had almost perfect conditions.
Towing HBL's we headed through Woods Bay and down towards the 3 ways off Ricky's where we saw a few bust ups. Not sure what they were, perhaps Trevally or Tailor. Unfortunately they weren't interested in either poppers nor vibes so after about 45 minutes we moved on towards the end of the new retaining wall and across to the frying pan area.
Owen anchored his kayak with a full deployment of burley bucket, set light line with a small hook and float and worked his soft plastic across the bottom with great success all on the run out tide.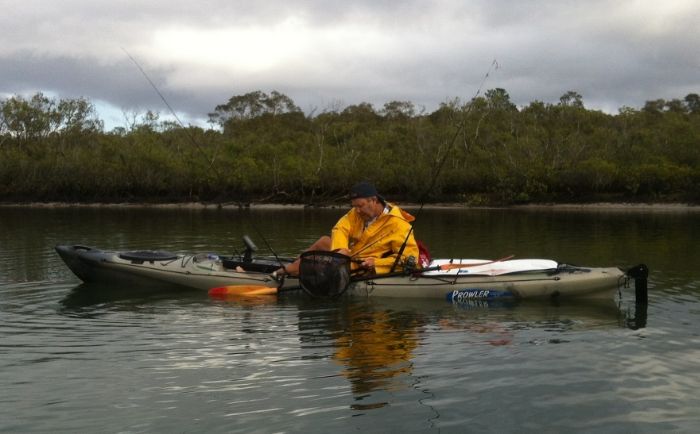 Owie's catch included a nice size bream taken on the float and the 54cm flathead pictured below on SP.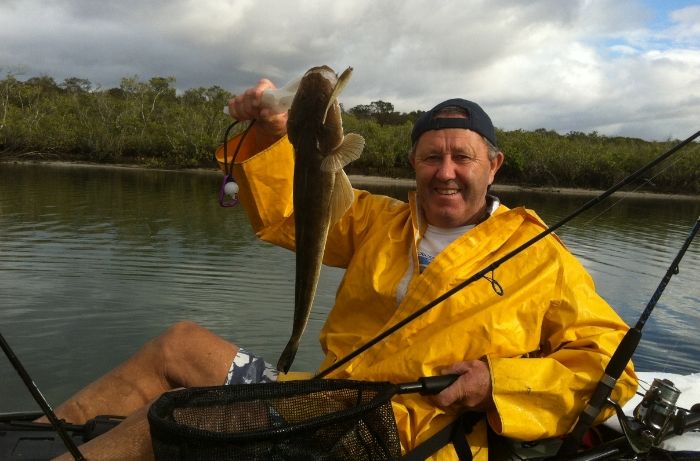 Nice day for a paddle and dinner for the newbie. on ya "O"
Cheers, TurtleBoy