TR by Eyetag
Wind - South easterly to 15 knots
Launch point - Lions Park Noosa
Participants - Eyetag
Hi All,
I had a paddle very early this morning, launching just after midnight from Lions Park Noosa Heads. I went straight around to the Inner Woods Bay and on my way past the Sheraton I had my first strike. Unfortunately it was a Hairtail around 70cm.
A little further on I got another. Not wanting any more of these toothy critters, I decided to keep all lures in until I got near the current line out from Ricky's. Things were a little quiet here with only one under sized Spotted Grunter Bream ( Javelin Fish ) and a small Big Eye Trevally caught both on a slow rolled small Gladiator Prawn. With the wind howling I thought I'd head for somewhere a little more comfortable.
Off I went up Weyba Creek to Weyba Hole where it was a lot calmer with a little protection from the wind but the fish didn't seem to be here. I fished the area for for an hour with Gladiator Prawns and Gold Bomber with out a touch. So up the Creek I went to a spot that never seems to fail and it didn't let me down with 3 Big Eye Trevally around 30cm on the Gladiator Prawn.
Still thinking about Weyba Hole I paddled back and on arrival I could hear a bit of activity in the form of bust ups. When the Trevally are busting up here there is usually Jacks underneath them. I did a few drifts with a Gladiator Prawn on the bottom and casting the Gold Bomber, it was all happening, I was hooked up on the Bomber when the Prawn went off. This ended up costing me 2 fish and 20 metres of braid. I retied my rigs and simplified things by casting and retrieving the Gold Bomber.
This worked and I was hooked up to something solid losing 30 metres on the first run and with the fish fighting on the surface the whole time. I thought I had a Barra but when I finally saw it I wasn't disappointed with it being a Jack and an equal PB for me at 53cm. Next cast I had another nice fish that felt as good but it turned out to be hooked in the top of the head and dorsal ( he would have attacked from underneath the lure ) which explained the extra weight during the fight. This fish was around 45cm. I released him and thought I'd go back to the current line near Ricky's. Things were still quiet here but I managed to get another undersized Javelin Fish.
The Sun was starting to rise and as I was heading along the Sound Jetties I had another strike and landed Jack number three. This fish about the same length as the second was also released cause I think they're too good to catch once.
Battle scars on what was a new Gold Bomber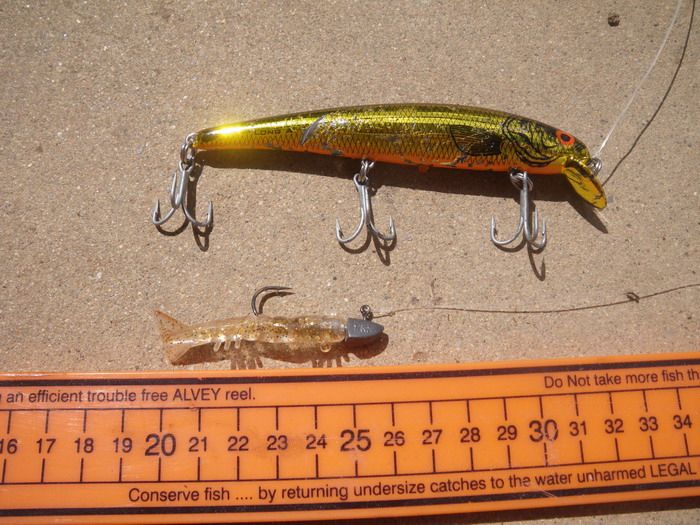 The size of the small Gladiator Prawn
Shot taken near the capture point. Photo courtesy of fishingnoosa.
Eyetag