TR by Pedro and Wendy
Location, Woodgate, Queensland
One thing good about the Noosa Triathalon is that Wendy and I get a day off from working the Noosa Farmers Market due to road closures. So we booked a house at Woodgate that backed onto the beach, perfect for a bit of kayaking, playing scrabble, reading, etc.
Woodgate is situated about 30 km east of Childers in Hervey Bay. It's protected by Fraser Island and only generates wind swell. It's a great place for family holidays especially those with small children. The beach is safe, and there is plenty of good quality affordable accommodation either on or near the beach.
We picked a house at the northern end, it backed onto the beach which made access easy and saved a bit of paddling as it's closer to the reef.
We arrived Tuesday mid afternoon, the wind was up from the north so we unpacked, set up for a pedal the following morning and went off to buy sandfly repellent. The local shop/takeaway owner told us that there had been no school macs caught since the northerly's started and didn't hesitate to tell us about the sharks...
I launched around 4am and headed for the artificial reef about 2k SE of the backyard. The reef is in 6-7meters of water, 1.5k long and runs SW to NE, you can pick up GPS marks at the boat ramp billboard at the northern end of town. I arrived at the SW end and continued trolling while checking out the bottom and marking anything interesting.
The reef was organized by the local fishermen and consists of rubble, old car bodies etc. and after a bit of sounding and nothing going for the HB's I decided to bottom fish the SW end as there was more structure.
Floating pillies over the area had me hooked up on a couple of large bottom fish, cod by the feel of them, both times the hook pulled. A few baits were lost to small ones and with no surface activity (the reef gets it's share of mackerel) I headed in fishless. There were plenty of turtles munching on seagrass as there was a carpet of cuttings floating on the surface and they were coming up for air regularly. 15knot NE winds for the afternoon. Wendy and I braved a launch and paddled into the wind for half an hour and enjoyed the free ride back. No takers on the HB's.

Sunrise at Woodgate Beach on the first morning
Wendy in a Swing on glassy water looking very happy
Thursday morning I launched early, this time trolling one HB and one gar on a headstart trolling rig. The conditions were perfect with only a slight offshore breeze. I trolled the reefs length a few times without a touch so changed over to pillies and drifted while taking in the morning. No action on the bait but there was a couple of splashes in the distance, this prompted me to continue trolling and five minutes later I had a soft hit on the gar. I stopped peddling and opened the bail arm a second before line peeled off at speed. I flicked the arm across, xxxx no hookup. No second take either, so I wound in to check the bait and in the water I could see a large fish following the bait, a spaniard? I peddled faster to keep him interested while winding as well and the fish followed it. A marlin cruised behind my gar with only two meters of line out. I peddled faster but he lost interest and disappeared into the depths. This all happened within a few seconds and even though I thought of the camera I was more intent on steering and pedalling to catch the fish so alas no pic.
I saw Wendy in the distance and we met up and paddled around for another couple of hours.
Terns were arriving in flocks all day and landing at the creek mouth, maybe some mackerel tomorrow.
No fish again but having another chance at the marlin club was great.
Northerlies picked up in the arvo and we drove a couple of km west and checked out Theodolite Creek upstream for a potential launch site.The creek seems to be surrounded by salt marsh and talking to a local who was fishing there it's very easy to get bogged so we legged it in three hundred meters for a look.
Upstream Theodolite Creek
After this we drove south checking out Walkers Point, the northern side of Burrum River. With the wind at our backs I fished with small prawns from the shore, picking up one grunter bream. This area looked very fishy, lots of holes and sandflats with yabbies.
There's another reef east of the mouth and a boatramp with toilets.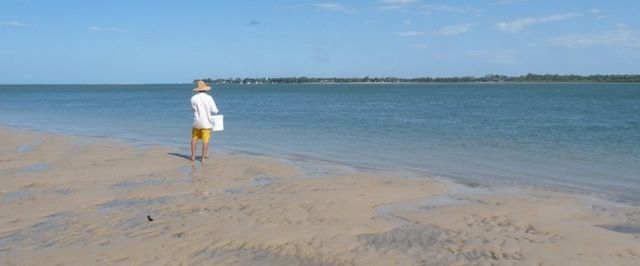 Looking South to Burrum Heads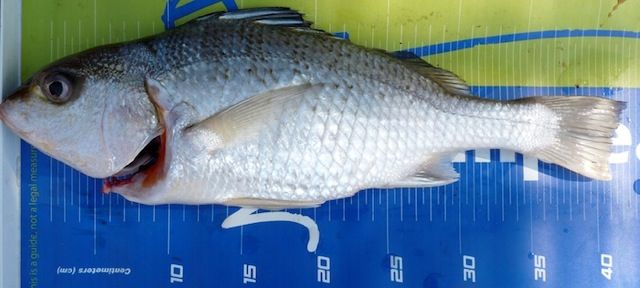 Pic of my Grunter Bream
I woke up 4am Friday morning and conditions weren't great with a 10 to 15 knot northerly, but being wind swell was doable.
So I launched and was soon escorted by a couple of dolphins for at least five hundred meters. I trolled the reef with HB's picking up two school macs. Who says northerlies mean no macs. I headed in around 7.30am as conditions were worsening and met up with Wendy who had launched but stayed in close. We headed in not long after. In the afternoon we had a look at the mouth of Theodolite which was 4wd accessible to the waters edge high or low tide.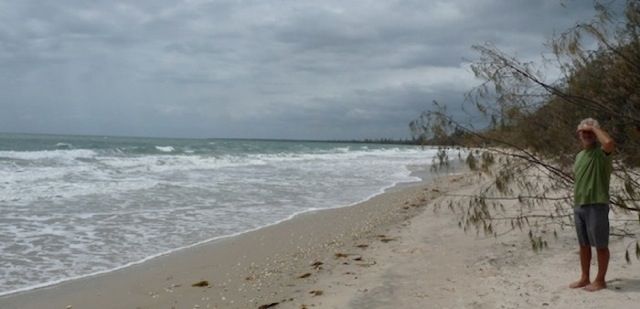 Northerly wind at around noon.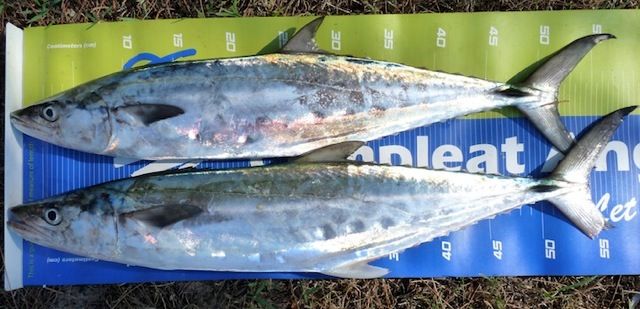 School Mackerel
The wind was still up Saturday morning so we had a lazy morning, packed up and headed for home around 11am.
Pedro