Trip Report By: Carlton
Wind: 20-25 knot gusts
Swell: N/A
Launch point: Munna Point
Participants: Carlton
I arrived at Davo's at around 6pm for comp briefing and headed to Munna point at 7pm. As it was blowing a gale and raining on and off, I thought it would be best to head up Weyba creek and find a spot out of the wind.
After a quick troll around Weyba hole I paddled to what looked like a nice spot tucked away out of the wind. But getting there was hard as the wind was that strong I could barely hang onto the paddle. As I finally pulled up, dropped the anchor and kicked back with the rain at my back, I chucked a line out with a piece of fresh mullet. after a while with only a few bites I thought I would flick a gladiator prawn around, I see Ian always uses them so I would give it a go. Second cast and I had a good hit and I was on to a solid fish. after I was towed around for a while, I saw a round looking thing, Not a stingray! I must be doing something wrong with the Gladiator Prawn.
After re-rigging, I chucked out the old trusty savoy shad hardbody and trolled close to the jetties hoping to keep out of the wind. After about 2minutes of trolling i had a massive strike and before i could put the paddle into the holder and pick up the rod, the fish had stripped about 30m of line of my reel. I was being towed around for about 10 minute before landing a solid Jack. I had trouble getting it into the net. I paddled to the bank to get some photos and measure the fish. It went 59cm and later weighed 2.85kg.

Savoy Shad, same colour use to catch Jack.
I paddled around for a couple of hours and tried to fish woods bay but it was blowing too hard. So back up the creek I went and found Ian getting around, had a quick chat and we went our ways. I got sick of the wind so went to the sound bridge and pulled up for the night. At least I had one good fish and dinner.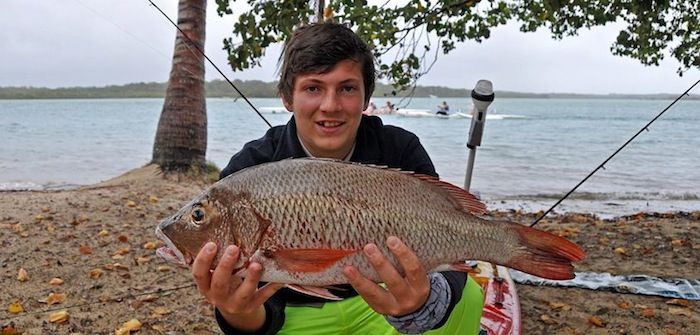 Photo courtesy of Bill Watson taken at Munna Point.
And on the mat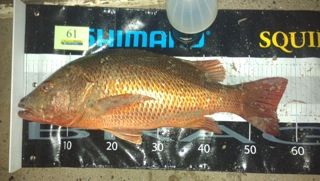 Carlton
Contribution from Eyetag
I caught my first ? but unfortunately it doesn't count in the comp and I also had to release it which is a bummer, but I'm stoked to have caught it. Conditions were awful, bordering on dangerous. I might give it a try later tonight if I get itchy feet.