TR by Jaro
Conditions: Great with vey little wind, mainly sunny skys.
Current: There was a bit of a current at JS but none at Halls Reef.
Participants: Whalebait, Stormin, Doctor Dog and Jaro.
It was Stormin Norman's day today
Except for Dr Dog we all arrived at MG around the same time at about 5.15am. We checked out the waves and decided to have a go even though the sand monster was working with a vengeance. Timing would be crucial.
I went first and waited in the channel for quite a long time before deciding the set was over. With adrenalin surging in my veins, I paddled like fury and got out unscathed bar getting a wet bum but a dry top. Stormin came through ok also and also got wet.
We readied ourselves for the paddle to JS and by the time I was ready to go Whalebait still had not appeared. Stormin had not finished his preps so I went ahead. A short time later he called and told me Whalebait had made it out. His radio was not working and he later told us he had a meeting with the sand monster....twice. Shows us yakkers are a brave lot.
I got to JS without any action and was joined there by Stormin and Whalebait. Whalebait decided to troll to Halls Reef while we did some bottom fishing. Stormin caught what may have been a Maori Cod which he released. With no more action occurring we also headed for Halls Reef.
To summarise... I caught a shark there which I kept. Stormin caught a variety of fish, a snapper, 2 sharks and a sweet lip. All were released. Stormin also had 3 large strikes and lost his lure each time. I think he will use wire next time but he did get a nice fat Spottie Mac using a trailing pillie to take home. Dr Dog had contacted us and told us Whalebait was returning to MG, fishless. He had made it out ok and was going to venture out towards us.
Photo below of Stormin' with his FSM ( Fat Spottie Mac )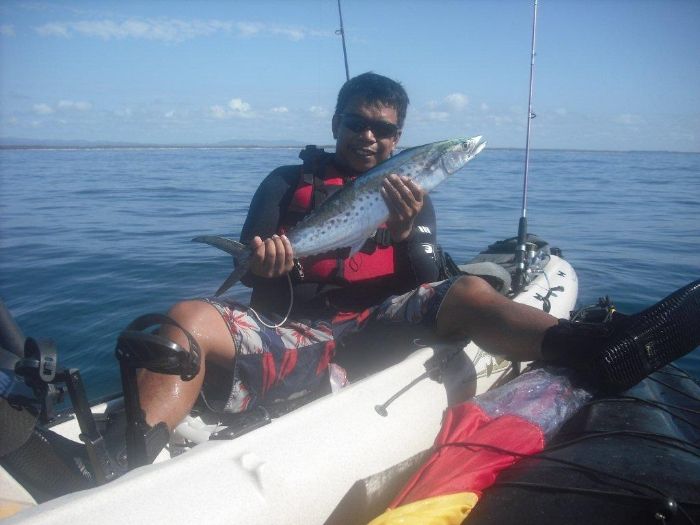 Photo by Jaro
At 10.15am we decided to call it a day and left Dr Dog out there to continue trying his luck.
There were still large sets pounding MG but both of us timed our run perfectly and landed upright without any dramas.
Jaro