TR by Shaggy
Wind: Westerly @ 6 knots, ceasing to nothing
Swell: 0.5m SSE
Current: None
Launch point: Yaroomba Beach, Warragah Parade
Participants: Shaggy, Damien and Mick
We had a early start up at 4:00am and on the road by 5:00am for a 6:00am launch at Yaroomba Beach, destination Arkwright Shoal. We met at 5:00am at the 7 Eleven on Nicklan Way which is our usual meeting spot for all our adventures. After a short half an hour trip in the car we were at Warragah Parade, Yaroomba Beach. Expectations were high amongst the group as we have not yet had a great fishing session from the yaks.
We all headed down to the beach for a quick look at the conditions and were excited to see that the predictions from Seabreeze and the like were spot on with minimal swell and bugger all wind. We trundled our yaks down to our launch point and were greeted with the sun just peaking its head through a thin band of cloud on the horizon.

The early morning view.
We then entered the water just after 6:00am and after waiting for a lull in the swell we all made it safely out the back with dry bums, we all got rigged up and started trolling our way to our first mark, we arrived at our first mark after a short paddle as it was only 2klms from our launch point.
I sounded around for a little bit to try and find some better looking structure while Damien and Mick started sending down their sp's to try and get some fish on the board. After about 10-15 mins of sounding around and not finding any promising looking ground and the boys not getting any touches at all on the sp's we decided to move the our next mark a little further north and closer to shore.
By the time we arrived at our next mark the wind had all but ceased and conditions we amazing.

Mick and Mt Coolum
The water was so flat and clear we were in between 13-16 metres of water and we could clearly see the bottom. At one point I looked around after staring at my bait just up from the bottom to see that the other lads were doing the same thing. I have never seen water so clear before it was one of those things that money can't buy.
Anyway, we proceeded to send down half pillies with minimal weight and also had our sp's out just floating around but for the next couple of hours but the only fish that was landed was a small grassy from Damien. At 9:40am I yelled out to the lads that I was calling it a day and heading for home.
This is where things get a little interesting well for Damien anyway. Mick was the first one to get everything stowed away and start the paddle into the line up, he couldn't have timed it any better getting all the way to terrafirma without any hassles, then I picked the next lull in the sets and made it to shore only to get a little water in the yak as a little shore break picked me up and broad sided me onto the sand, although I managed to stay upright.
After quickly dragging the yak up the beach I turned around to see Damien starting to paddle but then stopping and I could see and nice size 2 footer building behind him. He had mentioned on one of our other outings a couple of weeks back that he wouldn't mind trying to surf a wave in. I quickly got my camera out, and well what can I say, a couple of pictures say a thousand words.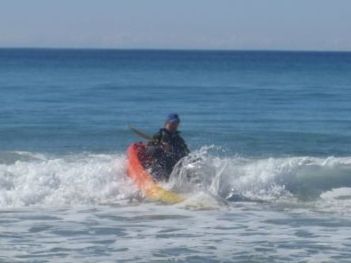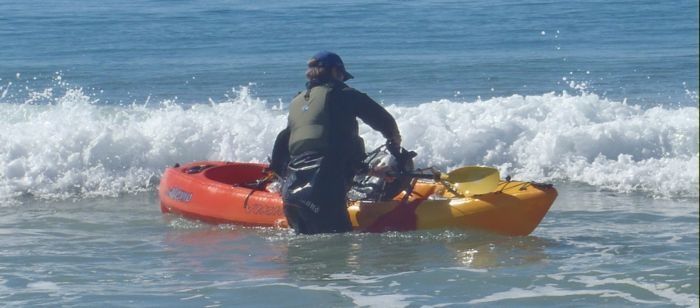 Damien takes a dunking, more work to do on the surfing techniques !
Once we all got packed up and ready to head our separate ways to home we got a quick pic of Damien and his grassy that was in the mid 30's range. Nothing to write home about but still a nice couple of fillets for his efforts.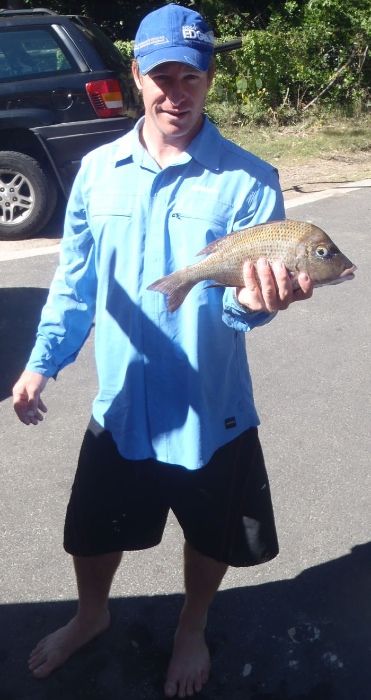 Thanks guys and hopefully I can get back up to Noosa and do another trip with you guys shortly as this is the 4th trip we have done down in the Caloundra to Coolum area to date.
Cheers,
Shaggy.