TR by Yakfinn, contributions from Iain and Dan
Wind: Light from the SW
Swell: Light Easterly
Launch point: MG
Participants: Sean (yakfinn), Brian, Craig (Noddy), Iain, Dan (fishinDan), and later Paul and Turtleboy.
It was a very frosty morning that greeted us this morning as we arrived at MG around 0530 - 0545, however we were treated to clear skies, light winds and low swell, which made it ideal for fishing.
On arrival in the car park I met Craig, Brian, Ian and Dan all for the first time. The general consensus was to head North along the beach and try and find the Longtails that had been reported by Eyetag.
The sand felt like it was around minus 10 degrees this morning as I was walking across it bare footed on the way to the launch point. It was a great relief to get them in the warm water.
Brian and Craig had already launched without issue and were heading up to the North shore when Ian, Dan and myself launched about ten minutes behind them. Not much swell around today, but with it being dead low tide I still managed to find a small wave and started the journey with a wet backside. Dan is an experienced yak fisherman, but a newcomer to surf launches. He handled it with ease.
We paddled for 25 minutes or so north and it was evident by the amount of terns around that it was shaping up to be a good days fishing.
We arrived a few km's up the beach to find Craig and Brian chasing bust ups all over the place, but slightly frustrated as they hadn't been able to entice a strike. For the next 2 hrs we all chased small bust-ups of what appeared to be Longtail Tuna getting casts away very frequently. Every now and then a large boil-up would appear and then, with a few minutes, disappear to the depths.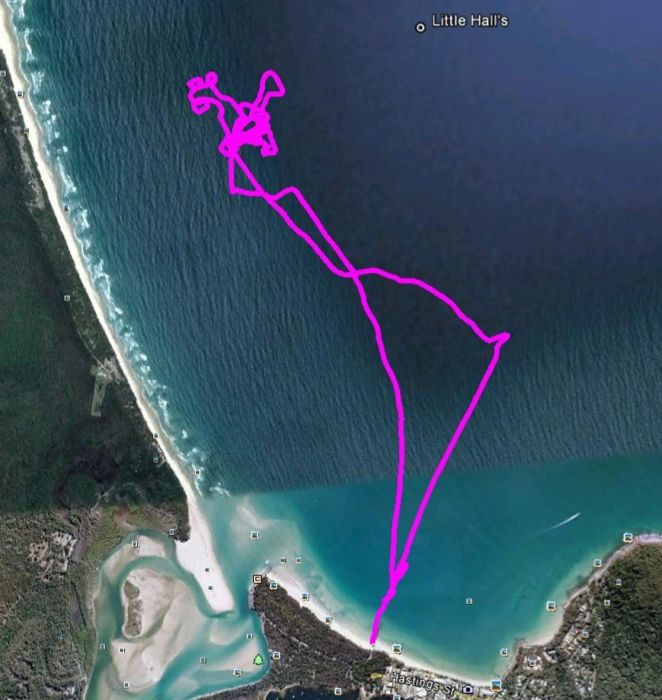 There were several "I'm on" type radio calls made over the next hour or so with numerous fish being dropped. At one stage I observed both Brian and Dan hooked up in close proximity of each other only to see that a few minutes into the fight they had unfortunately both dropped their fish.
A short time later and it was Dan who struck first, after a radio call of "I'm on", landing a decent sized Mac Tuna. Well done.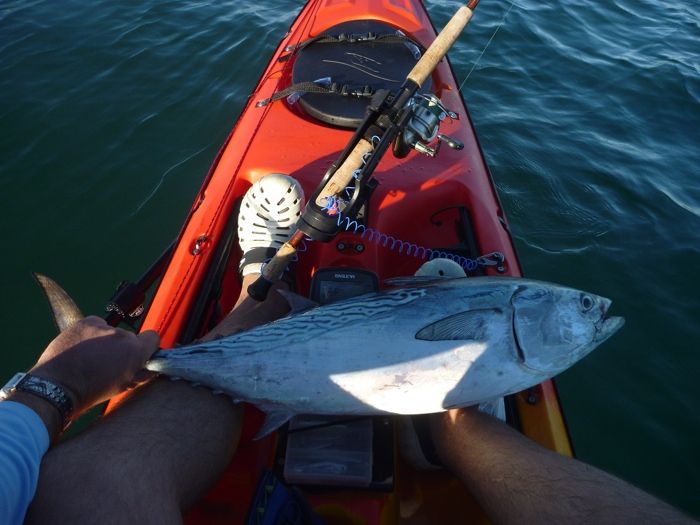 Brian had had several hookups but disappointment each time after a few more were dropped, some of them a result of bite-off's. Noddy was working in closer to the shore line and had reportedly also dropped a few.
There was even a call over the radio to say that some spotties had been sighted on the surface.
I was paddling along waiting for some signs of life to appear when, suddenly, a big boil presented itself right in front of me within easy casting distance. With the first cast away I was on!
The fish pulled me straight into the middle of the boil, where there were Tuna jumping all around me, and I could see then swimming underneath my kayak. Very exciting. The fish had a few short runs, but it was clear to me that this was no monster, and a few minutes later, I boated and released and average sized Mac Tuna. Great Fun.
The fishing gods were nice to me today, because several minutes later and another boil presented itself right in front of me. Again I hooked up on the first cast, and it was clear right from the start that this fish was in another league than the Mac Tuna. For the next 15 - 20 minutes I fought hard and to my delight the hooks held and I soon had my first view of the fish. A nice sized Longtail Tuna. My first Longtail from a kayak.
It took me 5 mins or so to get it up those last few metres as I was playing it very carefully having lost a tuna at the boat late last year. Dan was close by and he helped me to boat the fish by steadying my yak and helped me lift it into the back compartment of the Mission Catch 420, which I was very appreciative of.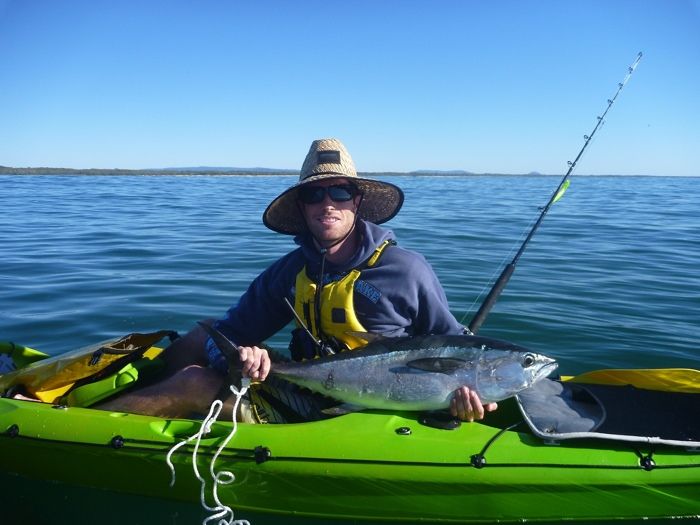 It was as if someone had turned off the tap after that, which the action stopping almost immediately after that fish was taken. There were still a few small bust ups here and there but the action had considerably died down.
We started to troll back towards MG, diverting several time to see if we could entice a strike from some small bust ups.
Along the way home we encountered Steve (Turtleboy) and a friend making their way to the North Shore area.
Brian, Ian, Dan and myself all headed for MG, as it was around 0945 by this stage.
Everyone landed safely without issue. Well done to Dan as it was one of his first surf launches, he handles the launch and return like he'd done it a hundred times.
A great day on the water, great fun chasing Tuna bust-ups, and a very happy day for me to land my first Longtail from the kayak.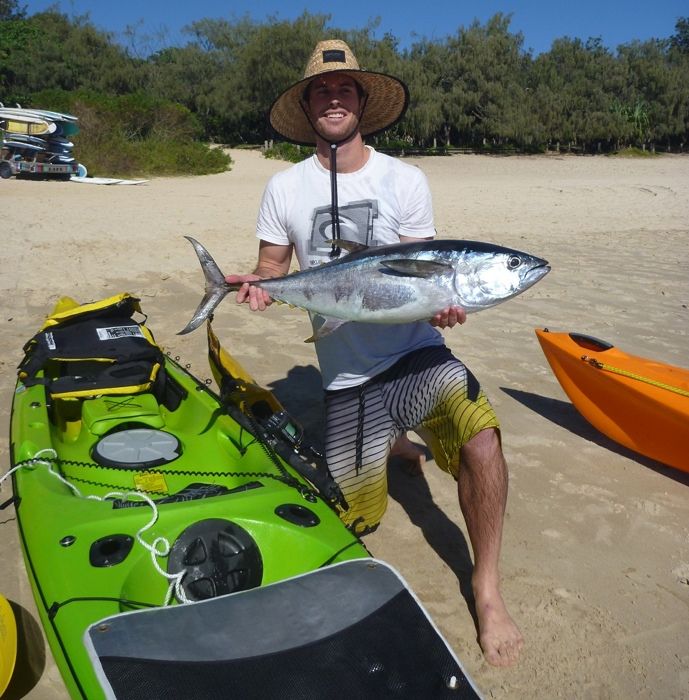 Yakfinn
Contribution from Iain
Hi All,
Thanks for making me welcome on my first Noosa Yakkers trip.
I did my first trip from MG on Friday into some less than pleasant swell. Was getting sucked out of the gutter during the launch faster than I wanted so headed away from the wall and took a wave on an angle, rolling me in. After heading back to the beach for a re-group, I headed out again and walked a very long way out (low tide) and was aided by the local surfing instructor who kindly held me straight as we waited for a break and pushed me out.
It was not quite the break I would personally have gone with but he gave the push and I went. Out the back I hit some big waves (2m swell) just before they broke which was quite an experience. Finally out the back, a bit shaken I rigged up, still fearful of being pushed back in the surf zone.
I trolled up to near Little Halls and back again for no action although did get a slow pull of line out at one stage.
I must share I did not enjoy my time out there in the bigger swell much with the rain coming and going, all with the re-entry back though the surf being in the back of my mind.
Arriving back near MG I stowed everything and proceeded to wait for a break and ran for it. Got a smaller wave that drove my nose under a long way and I rolled.
Good lessons in bigger swell.
Sunday was beautiful, flat as a tack compared to Friday and got out dry. The bay was very pleasant as we and the other guys watched the Sunrise. I echo the cold comments of others!
I too headed to North Shore and encountered dozens of bust ups. Lost a take on my trolled halco a few seconds in to the fight. Later on I paddled up to a large frenzy of what appeared to be long tails and hooked up first cast on a slug. An exciting time on 15lb on a 4000 series reel but 10 min in I lost it as it broke through my 60lb leader. Tuna?
Loved my time on the water with a great bunch guys surrounded by a lot of big fish.
Thanks all and I look forward to being back there.
Cheers, Iain.
Contribution from Dan
Was good to finally get out with the Noosa Yakkers! And thanks to Sean for loan of the radio.
Having never launched from MG before, I was a little nervous of taking an early morning swim... And with the weather so chilly before sun up, it was in the back of my mind a lot. Thankfully the launch was relatively easy, and I got through ok. I did get a shot of cold water straight onto the privates however, which REALLY woke me up! We rigged up and headed north. I was trolling a 120 Halco, and had a 35g Halco slice ready on the casting rod.
There were bustups everywhere the further north we got. They were all realitively short lived, and seemed to be more one or two fish rather than a big school. Casting the slug into the action as it was on top, and winding straight away seemed to be the trick. Once they submerged, dropping the slug down didn't seem to get any bites which suprised me a little.
Brian and I had a double hookup on good fish, however they conspired to drag the two of us into each other, tangling lines with kayaks and other lines... Both fish were dropped. I landed a Mac Tuna (released), and had another 6 or so hookups that didn't stick. The treble on the slug had weakened after the kayak tangle earlier, and I stupidly didn't change it...
After a while I hooked onto a much bigger fish. This was definitely a Longtail! After being dragged around for a while, I tried to quickly wind in my trolling rod one handed, and as I looked behind me for a minute, I felt the line go funny, then REALLY tight, then an almighty crack... SPOOLED!
After that, I only had the trolling rod which had a couple of hits, but nothing stayed connected. The interesting thing was, the hits all came when I was stationary, so the lure would have been bobbing on the top of the water...
It was a great day, and I was glad to be there. Got some good photos for Sean of his Longtail, and I got some video of jumping fish as well. Will try and upload them when I can.
Got to get a new reel & line. Bring on the next trip!!!
Cheers
Dan