TR by sunshiner with contribution by Eli at the end
Wind: SW, starting at less than 5 knots, dropping to calm around 11:00
Swell: 1.5m S
Current: at JS, none
Water conditions: clean, no sign of turbidity
Launch point: Middle Groyne
Participants: pedro, richmond, eli, turtleboy, sunshiner
Great sea forecast today, but the air temp was way down (8 degrees). Accordingly I opted to launch after sunrise along with turtleboy who was happy with my plan. Pedro and richmond must be made of sterner stuff as they both launched much earlier, into a glassy sea with little swell, thankfully. On arrival at the carpark I noticed that Eli's 4WD was present. In fact he'd occupied spot number 1, which eyetag usually manages to grab.
So turtleboy and I trundled down to the sunlit beach to be met by the easiest possible beach launch.
Noosa Main Beach, mid winter
With a SW breeze obvious we headed off for the SW edge of Jew Shoal and when about 1 km into the journey we managed to make radio contact with pedro who was out at North Sunshine somewhere. He'd already done pretty well, with a cobia (his first) and a couple of decent grassies already in the bag. Richmond was heading out toward him but both were reporting a pretty stiff breeze out there. This breeze was the reason I didn't head for SR myself. Not because the breeze itself was uncomfortable but any increase in its strength would make the long paddle home very difficult.
Conditions were superb at Jew Shoal, with a gentle breeze in sunny conditions propelling us at an ideal drift pace right across the main part of the shoal. We took an hour to drift the approx one kilometre from our start point to NE of the pinnacles. But no fish. Not even a touch for me.
After this drift I set up another just as richmond joined us from Sunshine Reef, a 3.6 km paddle into the breeze. On this drift turtleboy and richmond started to get some action mainly from little reefies such as wire netting cod and black tipped cod but no snapper or sweetlip. I remained without a hit. Pedro then turned up from Sunshine and settled into the routine also, hoping to improve his score.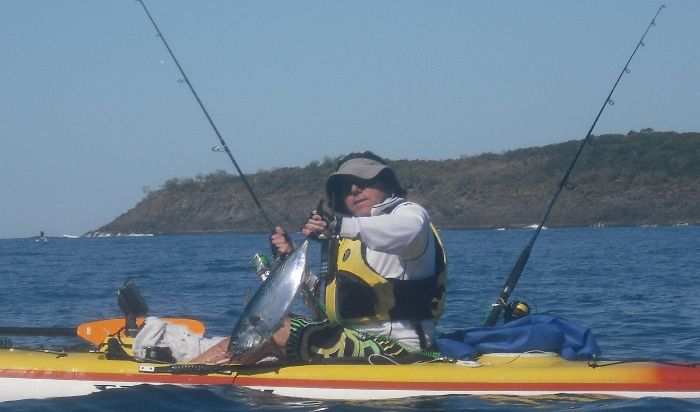 Richmond and mac tuna taken today. The mac tuna were popping up singly and in small groups all over, but rarely clearing the water. Pic by turtleboy
None of us had seen Eli out there but then his trademark straw hat could be seen. He was mounted on a different craft than his usual ski, and approaching from the east. Eli had upgraded to a Viking Ozzie, although he explained to me that it was borrowed. He'd nailed one mac tuna only at this stage.
Eli in his upgrade. Note he's still using the same paddle, however.
Having started drift fishing at 0845, and not had a touch by 11:30 I was resigned to a fishless trip. But just as I was sitting in the warm sunshine chatting to pedro my cast SP went off and I quickly hauled in a small but keeper snapper. The SP was taken suddenly while drifting downward toward the bottom in 21m.
My small snapper, a worthwhile meal for two.
Shortly after this all except Eli opted to head for home, arriving on the beach around 12:45. Some beach pics:
An excellent brace of sweetlip caught by pedro, the larger one a candidate for a new Noosa Yakkers Record.
Pedro's first cobia (107cm), and the first eligible to become a Noosa Yakkers Record since the Record List was established in December last year.
Pedro and his cobe, on the beach.
Results for today (excl Eli): pedro, see pics above; richmond, two mac tuna; turtleboy, one mac tuna; sunshiner, one snapper.
Eli, please let us know how you finished up.
---
Contribution by Eli
Today's Journey... Success!!
After launching at just after 6 I headed out to Sunshine Reef to test out the borrowed kayak. With not even a bite out there I decided to try my luck at Jew Shoal. Picked up a small mac tuna on the troll on the way over, with bust ups all around. Fished again with no bites and when everyone decided to head back I began to follow only five minutes behind. Mac tuna were all around as I left and with a strike on my trolled hardbody (Halco lp in pilchard) two minutes into my paddle I was certain that this is what it was. As my Daiwa baitcaster spooled with 15lb braid began to reach the halfway point on the spool I realised I had connected with something bigger. A great deal of winding and being pulled around in circles eventually led to me boating a good size longtail which was well worth the seven hours I spent out on the water today (arms got a little red, should probably add sunscreen to my bag). It measured in at 106cm and 12.1kg, making it my biggest.
Tarzan of Laguna Bay