TR by Gemini
Participants: Sunshiner, Redwood, BeeJay, Pedro, Doctor Dog, Gemini
Conditions: Sunny, light-mid N/NNW breeze
A 5:15AM launch saw us all on the water with few problems (minus Doctor Dog, who appeared later in the morning), although the left side of the groin was a little hairy at times. On the incoming tide some quick building dumpers from the sand bar were present, so careful timing was needed to ensure a dry bum. Redwood and BeeJay opted to launch from the right side, and found it much easier.
As usual, I was the last to start the journey after rigging up, and I trailed the group out to Jew Shoal. Half way out the reports of whales in the vicinity came through, and the odd splash could be seen on the horizon. A call also came through from Sunshiner stating he had snapped a rod on a terribly unlucky turtle which had chomped his trolled line. The rod piece, turtle, and laser pro, were all irretrievable. I continued on trolling, but arrived at my destination strike free.
After checking in with Pedro and Sunshiner for an update on the fish situation (none), I got to work dropping my shopping bag and baiting my hook with a butchered pilchard. I cast, and just as it hit the bottom I had a strike. It was an undersized squire, and he quickly made his way back into the drink.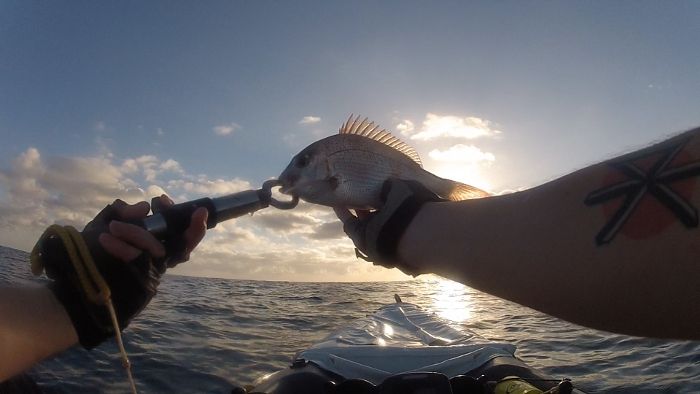 We drifted around for quite a while and fed the tiddlers, but without much luck. BeeJay was bemused by a legal bream which randomly jumped on his line, but it was quiet otherwise. At this stage Sunshiner announced his departure to do other things on shore, but was soon replaced by Doctor Dog tagging into his place. It was also around this time that Pedro decided to troll out to North Sunshine and try his luck there.
Sometime after I managed another hookup while bobbing along with Redwood for a drift, but it was only a nasty little grinner.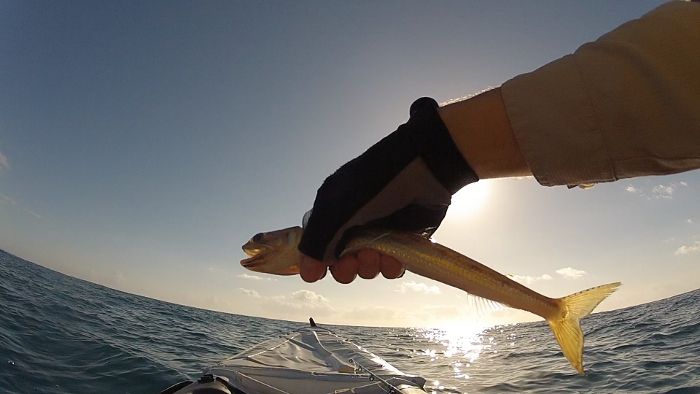 After a few more casts I decided to head back past the pinnacles and restart my drift. As I neared BeeJay on my way, an adult whale breached only a few hundred metres behind him out towards MG. I called it in to warn everyone to keep an eye out, as the whales were apparently behind us now too. I continued on to where Doctor Dog was drifting for a quick chat before I went to my mark, but I didn't get far past him. By then a pair of whales (mother and calf) were well on their way to our position. By their trajectory it appeared they were heading for BeeJay and Redwoods location, so I radioed to let them know. Of course, the whales swung hard and turned towards Doctor Dog and myself instead...
What happened then was a lot of back paddling, no fishing, and a lot of "ooh"'s and "ahh"'s, as the whales put on a show. Mum raised her tail a few times, but was otherwise happy to let junior have all the fun.
The following stills are from Doctor Dog...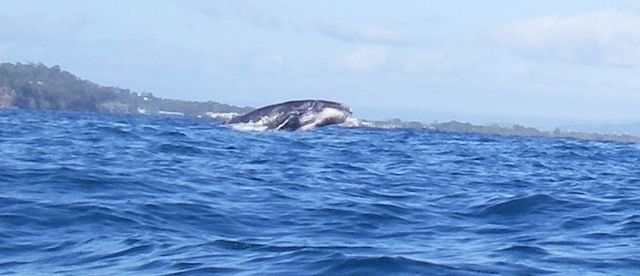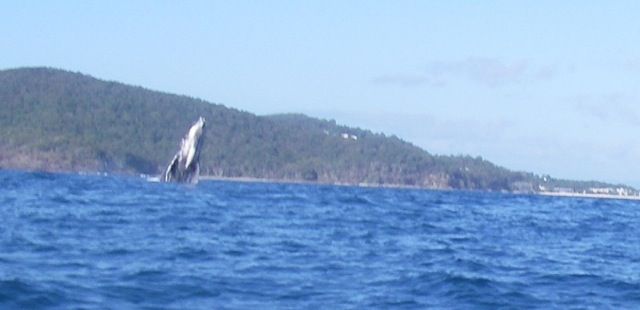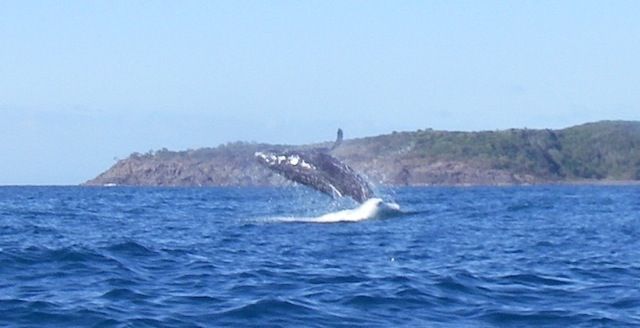 ...BeeJay...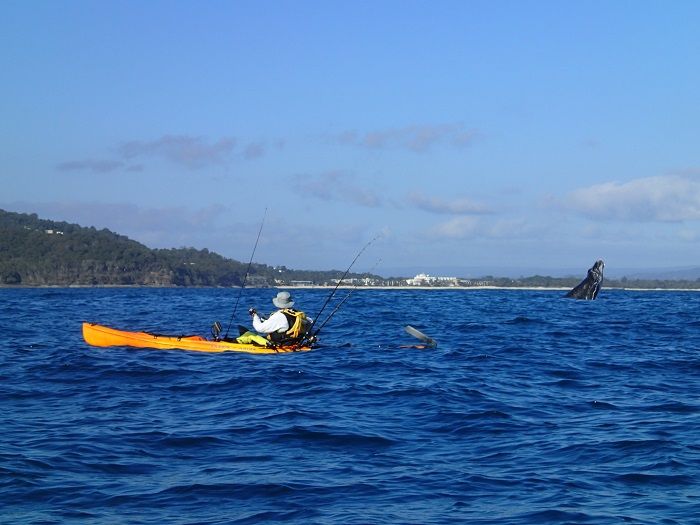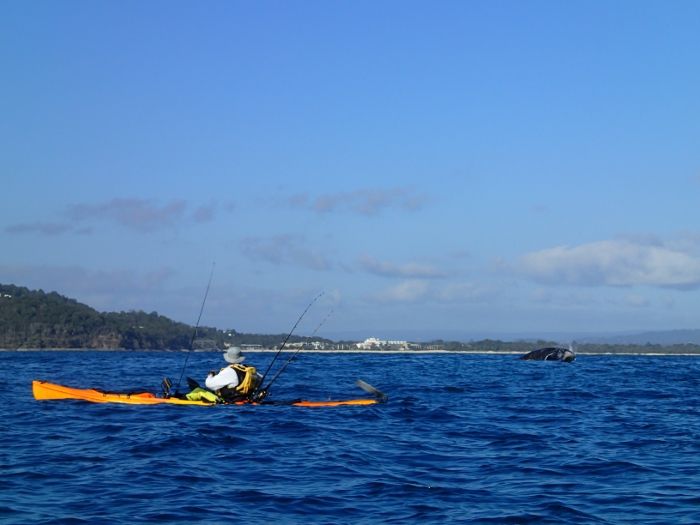 ...and video from me.
After the excitement was over and the whales had moved on (in Pedros direction), we continued our drift. We tried for a while, but there was no action, so everyone but BeeJay and Pedro pulled the pin. BeeJay followed along behind not long after.

Additional by Pedro
I made it to north sunshine and proceeded to drift fish with pilchard on the casting rod and let the trolled taylor I was using go deep. Nothing happened till around 12 when I hooked up (pilly) on a beauty that kept me busy for ten minutes before being cut off near the hooks. After this I headed back over the same ground and picked up 4 snapper and 1 grassie. All caught on pilchard.
Plenty of whales. I had a pod of five heading for me and slapping the hull seemed to make them pay attention and keep their distance.