TR by TurtleBoy
Launch Point: Castaways Doggie Beach Car Park
Wind: WNW
Swell: Small and doable
Participants: Wendy, Pedro, TurtleBoy
With the excellent general boating conditions up and down the coast, Pedro, Wendy and I decided to try a different launch point to get to Victor Bailey's (VB) reef.
We arrived at 5.30am and were out through a hole and rip right in front of the northern dune entrance by first light. I had already told Pedro that I had a spot I wanted to find by reference to landmarks and using his sounder to check the bottom structure, but after 20 minutes and no success we headed SE for Victor Bailey's reef. Feeling almost as deflated as the famous stellar navigator Fred Noonan I followed along as Pedro led the way.
We arrived at our mark and set up a drift with the wind pushing us ESE at about 0.8 klm per hour.
First to strike was Wendy with a keeper snapper that she unfortunately dropped at the side of the kayak. She and Pete also caught other smaller snapper and a juvenile red emperor.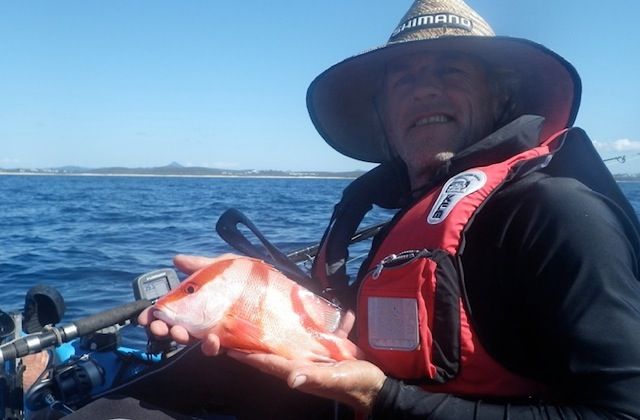 Pedro
I had my first strike fishing on the bottom with SP and jighead at around 830am and then again about an hour later. The snapper were 43cm and 39cm.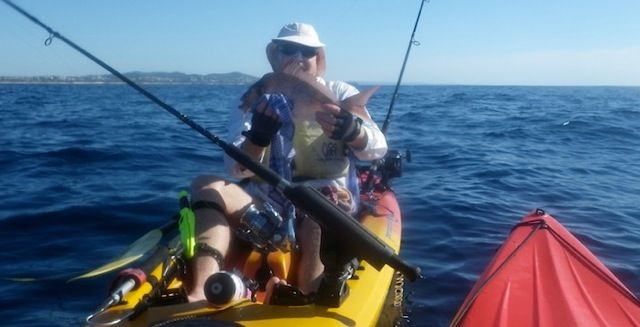 Strike number one with Noosa Headland in the background.

All Photo's courtesy of Wendy
At about 10.30 we decided to head back into shore. Pedro did a big trawl North and then directly in whilst Wendy and I witnessed a Tuna bust up with a large dolphin in pursuit.
We also saw a massive whale coming almost completely out of the water SE from our position. Magnificent.
We finished our day with a little swim in the rising surf to cool off. Very refreshing !
In summary, some really nice reef at VB's but its really only accessible with low swell conditions similar to Sunshine doggie Beach, else a very long paddle.
Cheers, TurtleBoy