TR by Doctor Dog
Trip date: 27.11.2015
Participants: DoctorDog, Eyetag
Launch Site:Noosa Heads Lions Park for Noosa River
Conditions:full moon light to moderate south east breeze overcast
Keen Angler Program: none kept
After launching around midnight Eyetag lead the way past the Sheraton to the Woods Bays where I trolled a Gold Bomber and found no interest but was intrigued by the picture on the sounder of the myriad of holes and banks in an apparently open stretch of the river ; good fishy habitat indeed.
New Rod gets its first victim
This hungry Big Eye Trevally brightened up my evening when I moved towards the rivermouth and drifted a Gladiator Prawn on a light jighead. He hit it so hard the lure was well down his throat and my surgical skills failed to extract the new sharp hook without serious damage so he went into the hatch.
A couple more drifts with the increasing breeze produced this 42 cm Flathead. I was pleased with the variety of fish in the hatch but the quick drift had me wanting to follow Eyetag upstream to the more sheltered waters out of the breeze.
I changed to my heavier trolling outfit for the journey and mid way past the sandbags on my intended track to Ricky's and past Munna Point the trolling outfit was slammed in a run that would have made any offshore pelagic proud. Fortunately there was not much boating traffic for this fish had me doing circle work in the middle of the channel and drifting downstream. Being heavily overgeared I was able to quickly subdue my first legal Mangrove Jack and stow it in the hatch after a short trip to a sandbank and a photograph on the bragmat.
They are truly magnificent fish and close inspection of the teeth and gill covers show why they have such a reputation for being hard on gear.
Eyetag and I trolled the quieter waters until first light when I made my way back to our launch site with no further action but very happy with my nights effort.
Eyetag kept fishing and as always had many more captures than we mere mortals. He emailed me later with his tally and a photo of his Jack.
"My tally was 1 small flatty, 5 small bigeye, 1 GT around 40 and the Jack in the photo. "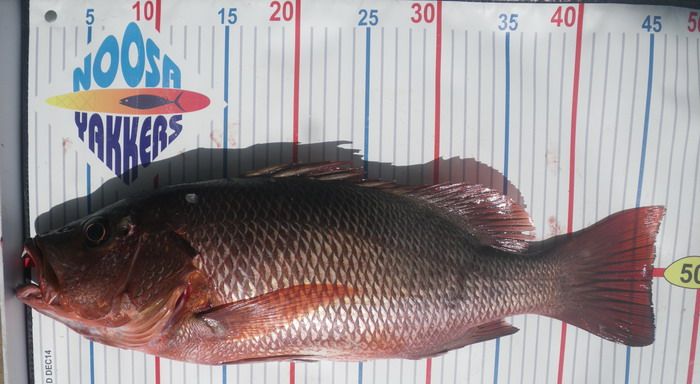 I had a great night-- thanks for the company" Eyetag" .
Good luck to those fishing tomorrow Tight Lines
DoctorDog