TR by sunshiner, jag-one also contributed by email, scroll down to see
Wind: calm initially, then SE to about 7 knots
Swell: low ENE
Current: none at either SR or Jew Shoal
Launch point: Middle Groyne
Participants: eyetag, pedro, jag-one, jimbo, kodaz, jaro, sunshiner, carlo, turtleboy, GrantW (new NY Looker).
Above, image from Sun n Moon, free iPad App.
Jaro and I launched at 0430-ish with just enough light to see the sets, having been preceded by eyetag, pedro and richmond. Close behind us were carlo, jag-one and kodaz. Turtleboy and GrantW (the latter on his first offshore kayak fishing trip) were quite a bit later.
Launch was easy, although I did wait briefly in the deep hole at the end of the channel while a larger wave passed through (no point in getting wet when it can be avoided).
There was some discussion by radio as to where we'd go but eventually most settled for Sunshine Reef initially, possibly based on my report from yesterday which indicated that Jew Shoal was not fishing well.
Soon there was a chain of kayak fishers heading east, following the now cold tracks of eyetag and pedro who had launched around midnight (or maybe a little later)...
On the way out there were few if any signs of predatory fish but once we'd cleared Hell's Gates the searching terns became rather more abundant and my sonar was showing scattered schools of baitfish 5-15m down as I paddled toward A-Bay reef, my initial target. By now we'd learned by radio that eyetag and pedro were trolling off Sunshine Beach, further south, and were seeing tuna jump from time to time but had no takers on their lures or baits.
Carlo, and perhaps Kodaz, were visiting A-Bay Reef for the first time and they settled in quickly to clobber the snapper and sweetlip we all expected might be hanging around down there, 30m below. It was not to be. Jaro and jag-one were using delicious prawn baits, I was using my favourite soft plastics which have proved to be the demise of many nice fish but only carlo had any result in the first hour -- a grinner! Kodaz decided to chase some tuna which could be seen on the eastern horizon and then reported later that he'd taken a strike on an SP which had bitten the SP in halves.
0617hrs. Glass-out at A-Bay Reef. That's jaro over there, and Mt Coolum on the horizon.
The drift was minimal and the action non-existent so thoughts inevitably turned to other places and techniques. First jimbo, then carlo left for Jew Shoal. Richmond and kodaz were somewhere out there but also turning now for Jew Shoal and eventually only jaro and I stuck with our reef, hoping that it would deliver eventually. By around 0630hrs, after an hour's fishing with no result at all, jaro and I had to concede that the reef was dead today (we were wrong, as jag-one later discovered). So first jaro then I joined the procession to Jew Shoal 3.5km NW, leaving eyetag, pedro and jag-one out there and no one at A-Bay Reef.
I'm sure we would have relocated to eyetag and pedro's position, further out, but they were reporting little or no action also, having given up on the trolling in favour of a bit of bottom bashing with finesse.
There was a lot more bait showing on the sonar in the eastern part of Jew Shoal so I opted to start fishing there, in close company with kodaz who'd been there a while, fishing with SPs. Then came the first signal of some success. Turtleboy, fishing near jimbo a few hundred metres north of us announced on the radio that jimbo was hooked up to a decent fish. Shortly afterward we learned that it was a snapper, initially estimated at around 60cm, caught on a pilchard on his trailing outfit. Here was some hope.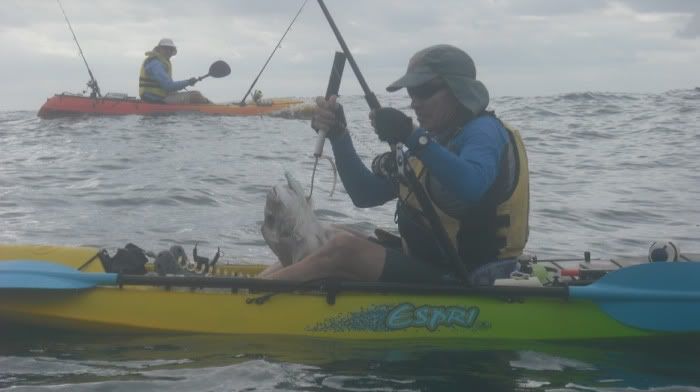 Jimbo gaffs the snapper while GrantW looks on. Pic by turtleboy.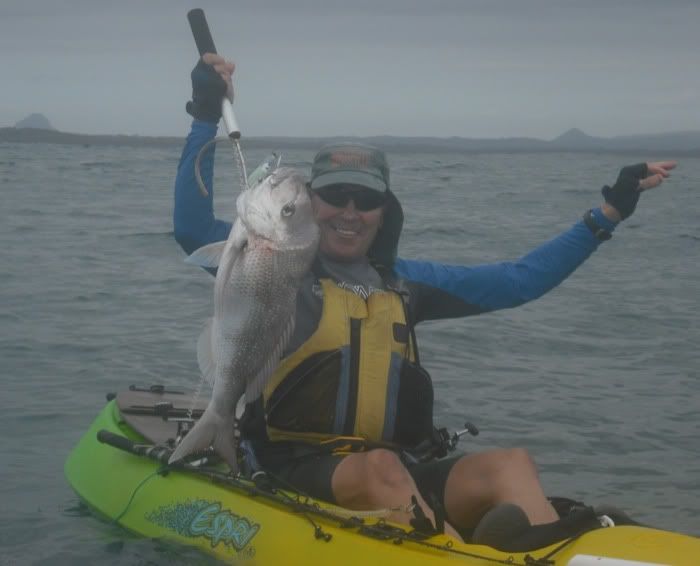 Fresh snapper for dinner. Pic by turtleboy.
Then kodaz yelled out that he was on. I paddled the 100m or so over with the camera.
0802hrs. This fish managed to "brick" kodaz, that is, find its way to the shelter of an undercut ledge or similar and thus make its extraction difficult.
The fish was lost and kodaz was forced to break off. That happens from time to time out here. I still hadn't had a single bite and nor had bait-using jaro. By 9:00am we and others had decided to give it away. Back to Middle Groyne we trooped, with jaro again using his sail and taking the same amount of time to get back as I did, but he'd travelled further. This migration left jag-one, eyetag and pedro out at SR.
On our way back, at about 09:15 we heard jag-one announce that he'd just had a double hookup on snapper at A-Bay Reef and boated both fish, each around 50cm. That's fishin'...
Turtleboy had arranged for his wife, Kerrie, to come down to the beach to take some pics of the returning kayak fishers.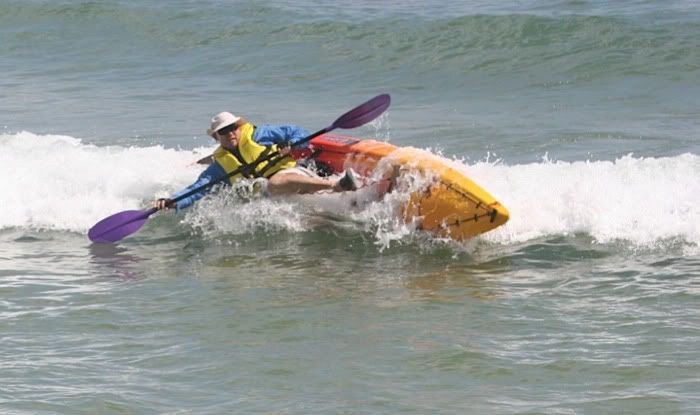 GrantW becomes acquainted with the sand monster. Pic by Kerrie.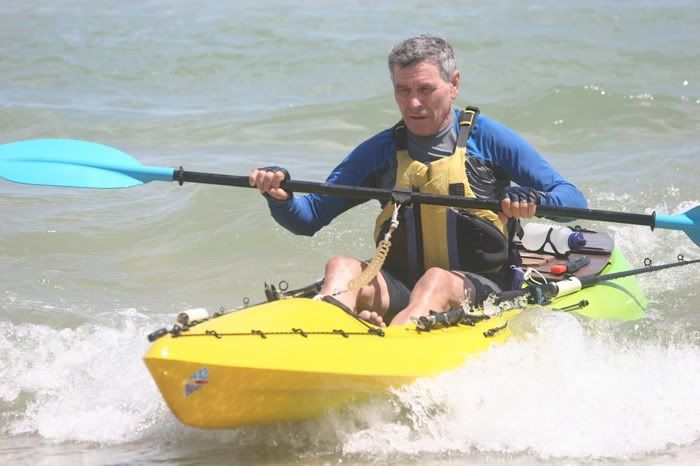 Jimbo concentrating on doing it exactly right. Pic by Kerrie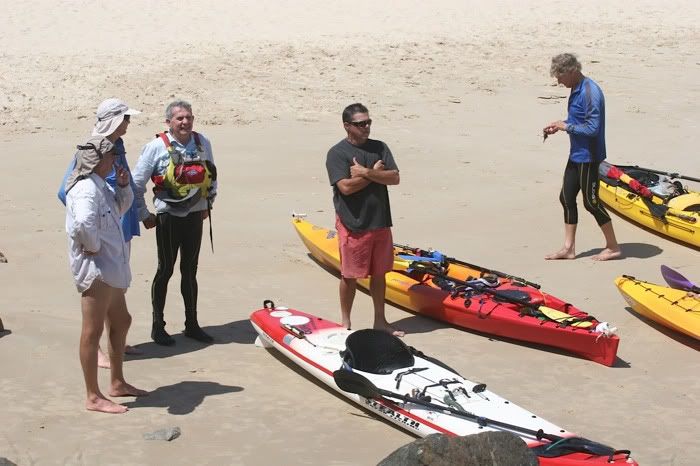 Five old guys. Pic by Kerrie.
With only one fish to show the beach crowd among at least six kayak fishers we hoped it was a good one. Jimbo didn't disappoint, pulling a beautiful 69cm snapper from his fish box. Not a Noosa Yakkers Record Fish, but the best this year so far.
Jimbo's fish attracts beach chick and her great-grandchild!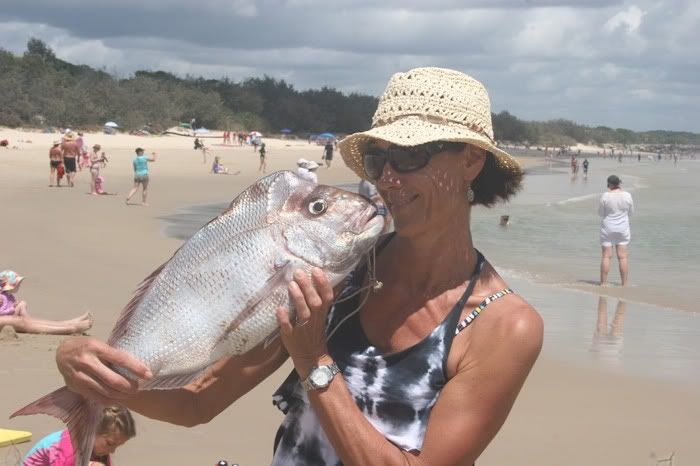 Kerrie hams it up for the camera. Pic by turtleboy.
Fish on measure mat
Lining up for Saturday, now.
Email and pics from jag-one
:::::::::::
From: "geoff stolberg"
Date: 5 January 2012 19:41:30 AEST
Subject: RE: Fishing today, 05Jan12
Hi yakkers,
Just finished reading Kev's report and the pics. That lady was there when we arrived back around midday, and she wanted to buy a fish. I pointed out that after paddling 15klms for my pair, the answer was no! [Editor: besides, sale of fish by amateur fishos is illegal]
I had worked my way out towards the nth reef mark with no success other than an approx .75mtr shark who busted me off beside the yak. I didn't like his looks, either.
Around 10.00am I started to head towards the doggie beach mark. I got sidetracked by birds and y/f tuna, with one clearing the water in front of me. I ended up heading to the A Bay reef mark (it was on the way home, as opposed to doggie reef).
I found a ledge there with bait fish holding on the leeward side, so started a drift. I'd gone about 50mtrs when the graphite loaded up. Ten seconds later, the other rod went berserk. I took a few turns on the second fish to keep the tension, then back to the first. I was pretty certain they were both snapper. Got the first one onto my towel, covered him, then onto
no. 2. The end result was a 49cm and a 49.5cm.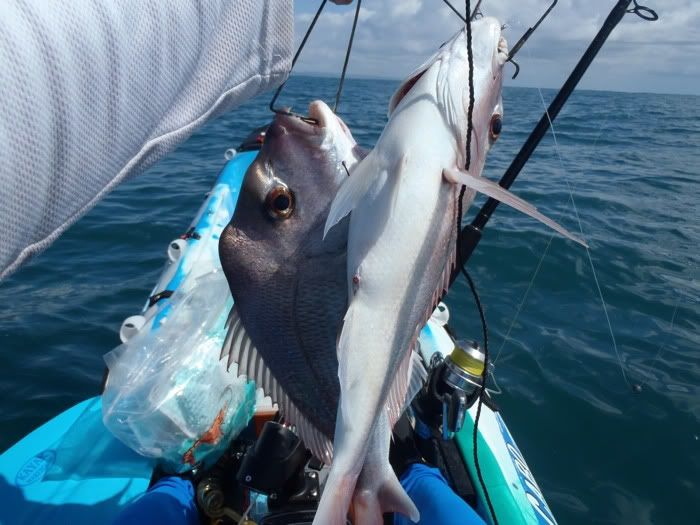 0916hrs (so the camera says, possibly time set incorrectly). A brace of nice A-Bay Reef snapper.
I went back over the drift three more times, for zilch. From there I just kept drifting towards H/G, then headed for home, meeting up with Pedro and Eyetag coming in from JS.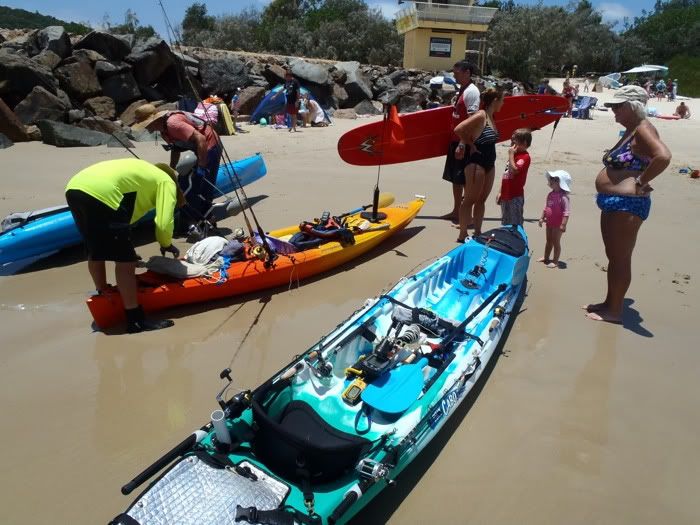 1132hrs (according to camera). Pedro, eyetag and all three yaks. Plus onlookers.
I thank Santa for buying me a w/p camera, so really enjoyed taking the pics. Kev, you'll notice the same lady in my pic.
See you on the water
Geoff Stolberg
Call Sign ..JaG one