TR by sunshiner with contributions by richmond, kodaz, jaro, justin
Wind: calm inside the bay, then SW to about 5 knots at Jew Shoal
Swell: low ENE
Current: none at Jew Shoal
Launch point: Middle Groyne
Participants: eyetag, richmond, jaro, sunshiner, justin mabey, justin's friend Dan, kodaz, kodaz' brother Duncan
This is only the first part of the TR as I (sunshiner) came home early, leaving the others out there. Hopefully some of the other participants will add their contributions, incl pics if available. I found no subject worth adding to our photo collection, at least none that I had an opportunity to record.
On sauntering down to the water's edge with my yak (love that trolley) at first light I came across Justin and Dan standing next to their yaks peering at the swell and surf break in the very low ambient light. It turned out that it was Dan's first surf launch (other than a failed attempt on the Gold Coast). But Justin was looking after him so I headed off before them, launching without difficulty and was glad, a couple of minutes later, to see Dan successfully clearing the small break which featured occasional dumpers. I imagine he was relieved too!
Jaro and I headed for Jew Shoal, following our illustrious fellow yakkers eyetag and richmond who were about 40 minutes ahead of us. Weather at Jew Shoal was vastly different from yesterday in that today's SW breeze gave us little or no drift, whereas yesterday's SE breeze was vigorous enough to give a good drift toward the NW and stir up the ocean a bit too. Maybe that was why, after an hour, we hadn't caught anything, although yesterday wasn't particularly memorable for fishing quality anyway.
Today there were many schools of baitfish showing on the sonar and occasionally near the surface, as the swooping terns indicated. But I didn't see any marine predators at all, and I don't think anyone else did either, at least up until the time I left. The one bright spot in the first two hours was the capture of a snapper (size guessed at 50-55cm) by use of a soft plastic bait, by Dan, the guy who did his first successful beach launch today. [Editor: Note that the fish ID was conveyed by radio call and as a result the species was mis-reported. The fish was actually a slatey bream.]
By around 7:00am I decided I'd had enough and out of boredom headed for LH Reef trolling a Halco LP, leaving my seven companions to continue their vigil.
All the 3.5 km or so across the bay to LH Reef the sonar showed schools of baitfish down deep, in mid water. But not once did I see a surface splash which might indicate a tuna or mackerel. From LH Reef I paddled directly the further 3plus km to Middle Groyne in glassy conditions (wind dropped to zero) to finish my day's fishing, being on the beach by around 8:30am. This was my fourth early morning launch in five consecutive days. All I had to show for around 50km paddling was two small snapper and bulging biceps!
The bay has huge amounts of baitfish at present and nothing is hassling them. Surely the mackerel will find them soon?
Kev
::::::::::::::
Update from Richmond
Well, what have I got to add? Bugger all!
After Kev headed off to LH I continued fishing with my soft plastic and ended up landing a barely legal Grassy that went 32cm. Other than a couple of small taps, that's all I could muster!
We did see a tinny at JS hooked up to something pretty decent, it turned out to be a fella in a grey suit.
Lovely conditions, but gee it's tough work of late. I hope Justin's mate Daniel didn't meet the sand monster on the way back in, because there were some good dumpers when I went and had a swim after my yak was on the roof. Oh well, we've all met the monster before haven't we?
Congrats to Dan by the way on a nice fish for his maiden offshore voyage.
As everyone else has been saying...........................where are the pelagics?
There's always next time.
Jeff (Richmond)
::::::::::::::::
Update from Kodaz
Kev, can't report much else. My brother and I followed in your footsteps to LH reef about 30 minutes after you left. Saw plenty of baitfish but not a single splash to indicate there was anything worthy of capture. I'll see you guys again when the pelagics move into the bay.
Jono (Kodaz)
:::::::::::::
Update from Justin
Hi guys well I haven't got much to add other than it was a beautiful morning for a paddle. I had one hit all morning which I failed to connect too.
My mate Dan did well for his first surf launch getting out well and made it in quite respectable although he did meet the sand monster right at the end haha. Also he managed a good fish believed to be a morwong can someone please confirm I've added a picture it went 63cm and took a gulp soft plastic.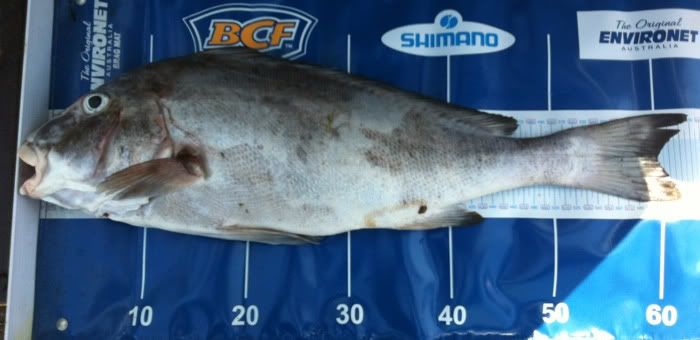 Cheers Justin
::::::::::::::::
Update from Jaro
Hi Yakkers,
I have, using Jeff's vernacular, bugger all to add to today's report. I was the last to leave JS at 10.00am being obviously the most determined to to catch something but to no avail, having just three fruitless bites all day.
Still it was a beautiful day on the water. A gentle north easter came in as predicted so I had the wind directly behind me for the paddle home and so had a wonderful sail home doing a steady 7k/h with no effort.
Dan and Justin, who were already onshore were most impressed...especially with the speed that I travelled.
By the way, as Jeff said, getting in was very tricky, timing and knowing when to stop and start during entry was vital in coming in upright. After a few anxious moments I made it OK.
Dan showed me the impressive sized fish that he had caught (his first from a yak I believe). There was some conjecture as to what it was and I ended up thinking it was more than likely a slatey bream which I now am certain that is what is was after looking up Google. I had warned Dan that if it was a slatey bream it would be best put in the rubbish bin as it is awful to eat after the experience I had with it.
Cheers
Jaro