TR by Gemini
Participants: Gemini, Kylie (observer)
Conditions: fine, very light breeze
Launch Point: Lake MacDonald - Strawberry Patch (18Apr), Hoy Road ramp (19Apr)
After ditching the kids for the night (woohoo!), Kylie and myself took a trip down to the Strawberry patch launch at Lake MacDonald in the late afternoon for a paddle. Kylie doesn't get out onto the water often, so I made sure I packed the rod with the hope I could show off a bit. :)
Not ten meters off the bank I had a missed strike on my baby vibe, so I was feeling good about my chances.
We paddled around the Strawberry patch a while, and the lack of weed due to the high water level made casting a very pleasant exercise. I had not been touched by a fish for a while, so I changed to a Jackal and dove a bit deeper. As we rounded the bend I took my first fish for the day, and he measured in at 32cm before going back.
We paddled along to toga bay, and here Kylie decided the light was fading too fast for her, so we turned back. Not far from where I landed my first fish I noticed a large splash off to my left, so I cast into the ripple on the off chance he was still there. He was waiting for me, although I didn't know it at first. I felt the tug, but then the line went slack. I let it drift a second, then gave it a tweak. Nothing. I reeled it back and it appeared to come in as normal...until I had it beside the boat. The line kept moving under the yak after I stopped winding. I applied some pressure to the line to bring it up, and only then did the fish kick some. He still came in fairly easy though, and he measured in at a nice 39cm. You can't tell by the photo, but he had big red eyes, which was a bit creepy in the twilight. :)
We kept heading for the launch point, and I had a few more casts. As we passed the six mile channel I had another take near the bank on the bird hide side. He was a smaller bass at 30cm.
Kylie landed, and I had a couple of last minute casts near where I had the first missed strike of the day. Once again, he was waiting for me. This guy kicked a bit, and gave me a nice fight to end the day. He measured in at 38cm.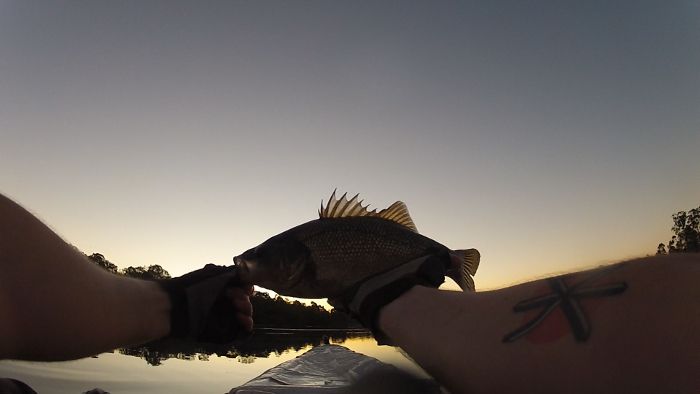 We decided to make use of our kid free time, and planned another trip in the morning from the Hoy Road ramp. Unfortunately we slept in a little longer than we intended, but we still managed to hit the water by 7AM. The bass weren't quite as frisky as the day before, but I still managed 3 over 30cm. The one below has some sort of disease or injury on the tail and dorsal fin, although I have seen similar before so my guess is disease/parasite. Any fish doctors know what it is?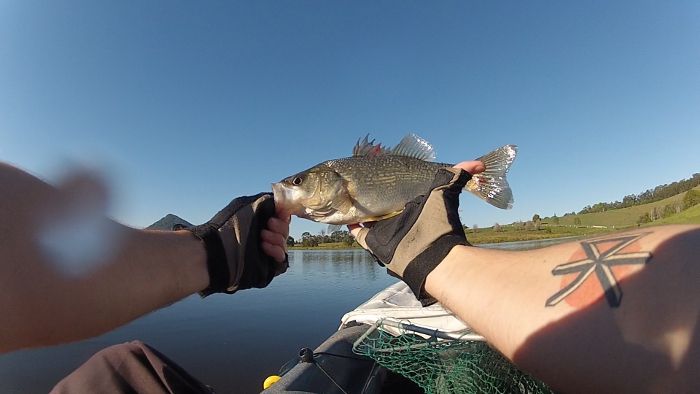 As usual the bird life of Lake Mac put on a show for Kylie, so it was a great morning out. With the water so high at the moment, and the weed so low, it's a really good time to check out the lake.
UPDATE:
I couldn't help myself and went out again this afternoon. It was a slow going lap of the lower half of the lake, but I did manage one fish from amongst the lilies just past the Strawberry Patch. Once again, this fish played me and I didn't know he was still hooked up until he came close. He hugged the bottom for a while and I had to give him some decent pressure to get him up and out of the weeds. He was a nice size, and I had to crack out the brag mat to see if I had beaten any records, but unfortunately not. He was just under 1cm shy of my personal best (44cm), and 2cm off the NY record (at 45cm).