TR by sunshiner with GPS image and info contributed by gemini and beach images contributed by Carla Van Schayk later.
Wind: SW, starting at 5 knots, building to 8knots
Swell: low SE
Current: none detected at A-Bay Reef
Launch point: Middle Groyne
Participants: richmond, eyetag, yakfinn, jimbo, beejay, stormin, adam ellis (first trip), gemini, carlton, sunshiner (total: 10)
A better forecast couldn't be found, and on a Saturday, too. No wonder we got a crowd. As temporary acting trip coordinator I briefly considered a Doggie Beach launch but opted for Middle Groyne after taking a look at the surf at Sunshine Beach and another look at the list of participants. It's likely that a Doggie Beach launch would have been OK but at least two were logistically committed to MG, and at least three would have had difficulty with the conditions at Doggie Beach.
I'd opted for a bottom bashing trip to A-Bay Reef, being forewarned by beejay's TR of the day before that Jew Shoal was very quiet. I figured that it would also be an adventurous paddle/pedal for some, who'd never travelled there before. Eyetag, richmond and jimbo had already launched by the time I got to the carpark, which was full of activity as yakkers with their various personal lighting arrangements got their stuff organized in the dark. Carlton trundled in, walking his new Hobie Pro Angler aircraft carrier from his home on Noosa Hill. He greeted me and headed straight for the beach where I encountered him a few minutes later with his Pro Angler at the top of the beach on its belly and a broken trolley in his hand. Well at least he was within striking distance of the water.
06:06. Seven yaks in the water and the last three about to launch. Carlton and stormin stand tending their respective Hobies while I again opted to be tail end charlie. That's my Stealth.
Everyone got out OK and once I was out there I scanned the horizon and counted six yaks plus my own. The other three were by now well to the east, which I confirmed with a quick radio call to jimbo. All were ready and off we went on the 5.5km mainly coastal paddle to A-Bay Reef.
Getting to A-Bay Reef (location approximate).
The last leg of the journey to this reef involves leaving the land behind, out of view, and heading straight for the mark which is 1500m offshore. I knew that our three companions were already out there but of course they couldn't be sighted until we were around 600m or so from them, when they appeared as occasional small bumps on the horizon as the swell lifted them and us simultaneously. Our navigation was spot on and sure enough, there they were, dead ahead, fishing already. Without a GPS you'd be hard pressed finding this mark from a kayak. You can thank the US Dept of Defence, and Presidents Ronald Reagan and Bill Clinton for giving the world this magnificent service for free.
The three earlier arrivals had yet to boat a keeper, but at least they'd proved that there was some action around as they'd tossed back a couple of tiddlers which had fallen for their offerings. Jimbo helpfully informed us by radio that the drift was west to east.
We new arrivals all chose our methods and locations and started to fish. I've been here many times before so paddled about 400m upwind from the mark, popped my Bunnings drogue, deployed a deep jig to trail behind the yak and then began my casting routine, sending a light jig out downwind and allowing it to sink gently as the yak drifted toward the splashdown point. On my second cast this light jig was nailed by a snapper, a very welcome catch (first keeper of the day), which I had the pleasure of announcing to radio listeners.
07:33. My snapper, around 45cm only but very welcome.
Then radio reports began to trickle in telling of various other captures, sweetlip, snapper, but none very big. Eyetag's banana prawns were proving a big hit with the fish, again, and I'm pretty sure bait outfished artificials today, although you couldn't describe it as a hot bite and certainly there were no big fish among the catch.
From about 09:00 onward, mainly depending on the action experienced, individuals and small groups started to head for home.
I stuck with it until 10:00 and came back with the last group of five, arriving back in the vicinity of Middle Groyne around 11:20, having paddled non-stop for over an hour together.
Just off the beach we encountered yakfinn and girlfriend Jess, leaving the beach for a paddle in the Bay.
Jess (in an Espri) and yakfinn
The beach return was pretty easy and soon we were hanging out on the beach comparing catches and chatting, including with Izak, a young guy who has just asked to join Noosa Yakkers, and who was there practising his surf entries in his Profish.
Some beach pics below, including a couple of fish which are potential new Noosa Yakkers Record Fish.
Carlton's venus tusk fish (new record possible)
Carlton seated in his Hobie PA with the above fish. Incidentally, Carlton demonstrated the stability of this craft by briefly standing up in it while out at A-Bay Reef! But it's a pretty heavy boat.
One of eyetag's grassies (potential new record)
Eyetag with two of his several fish.
Headshot, new member Adam Ellis (he's thinking about a nickname), who had his first trip with us today.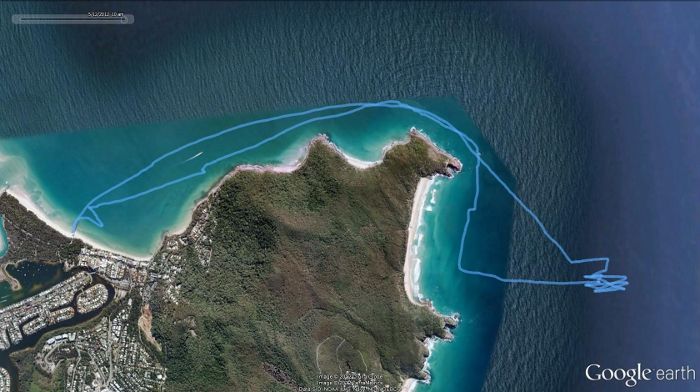 Above: Gemini's track map for today
Distance 14.7 km
Max Speed 8.8 km/hour
Avg Speed 3.0 km/hour
There were quite a few fish brought in today, but only three species, and no unusually large specimens. It was a beaut day spent in great company so thanks for coming along guys. See you next time and please feel free to make a comment on this post (facility below -- just identify yourself as Anonymous if you prefer but tell us your name in the comment).
:::::::::::::::
Images taken at Middle Groyne on 12May12 by Carla Van Schayk (mother of prospective new junior Noosa Yakker, Izak). Thanks Carla, for your permission to post these images on the blog.
Noosa Yakkers hanging out on the beach watching returnees.
A little later, watching beejay, the last of the group, returning to the beach. Note the wedding party on the wall.