TR by Gemini
Wind: 5-8 knots over the course of the morning
Launch point: Lake MacDonald, Strawberry Patch
Participants: Gemini
It's been a while since my last trip report, so even after a night of terrible sleep I leapt out of bed ready for action early this morning with a smile. I had erred on the side of caution and opted for the fresh today, even though it looked reasonable for offshore action. I'll get to that next week...
I arrived and unloaded at Lake MacDonald before dawn in the mild chill. It was still fairly muddy at the launch site, so I was doing well not to slip over in my thongs before I even made it to the water. Once launched though, I was presented with this view for my troubles.
The going was slow for a while, and there was little surface activity. I was using my R2S baby vibe today, so if they were hungry I knew old faithful wouldn't let me down. After a couple of bumps I was finally hooked up, and the fish gave me a fun fight. After boating him I found he had swallowed the lure deep, which is probably why he was so upset. Removing the trebles proved interesting, and he shed some claret in the process. He swam off though, so I can only hope he survived. No decent pic of this fella (just the capture), as I was pressed for time getting him back into the water.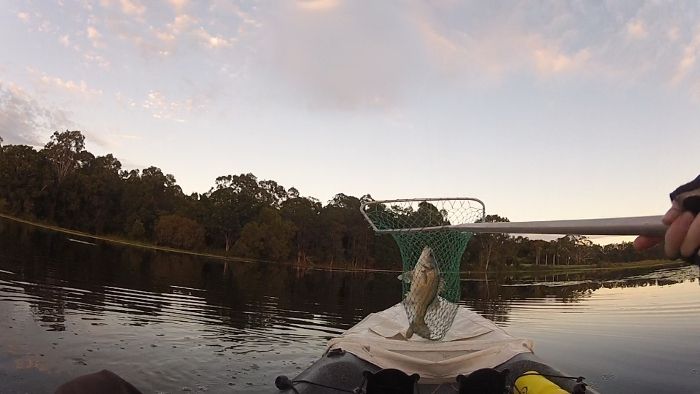 The next 3 were pretty quick to take the lure after the sun rose, but only one was of a decent size.
I cast my way around to the Palm Farm with no further success. It was a beauty of a day, and I could have easily anchored up and snoozed for a while on the water. Without any further strikes though, I made my way back.
I had just made my way past Toga Bay, cruising through the lilies in close to shore, when I had another taker. He was a good fish, and decided to take a brief run on my drag before cooperating.
He was no record breaker, but I had hoped he would be a personal best. After a quick sit on the Noosa Yakkers brag mat, he was proven to still be shy by a couple of centimetres. Bugger.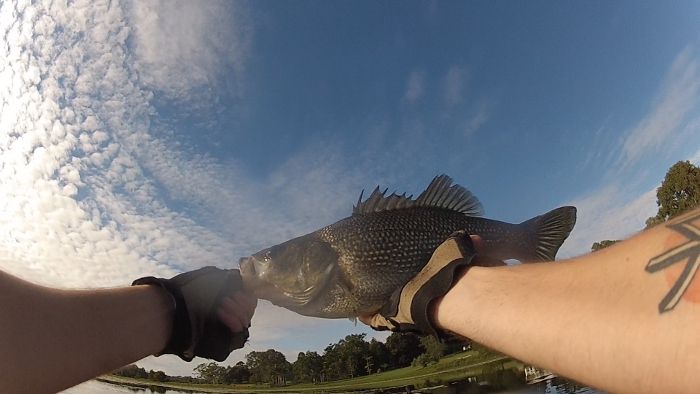 That was it for the fish, but I did spy a murder of crows being set upon by a sea eagle who seemed to be rather upset with them being so close to her nest. I suspect they are feeling a little worse for wear at the moment. Do
NOT
mess with eagles.