TR by Gemini
Wind: Light to moderate cool W/WSW
Swell: less than 1m SE
Water temp: 20°C
Launch point: Middle Groyne
Participants: Sunshiner, Tarzan, Mahatma, Aussie-Stu, Redwood, Gemini
Photos provided by Sunshiner and Gemini
Dawn was creeping through the clouds of the dissipating rain as we readied for launch. Sunshiner remarked that we should have made an earlier start, but I was glad to have the extra little bit of sleep as this was my first offshore outing since spotty madness on the 25th January. Tarzan had started a little earlier than the rest of us, so he disappeared into the distance as we readied for launch.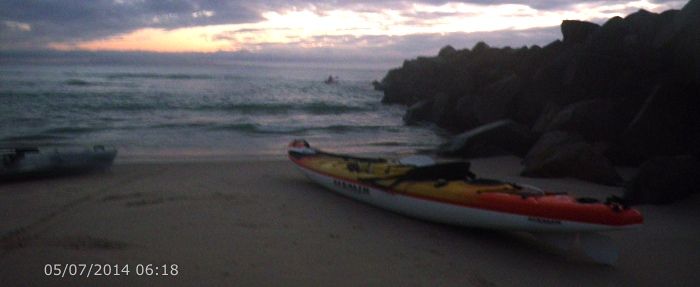 Today I launched using Pedro's custom rod bag for the first time, and I have to say I was impressed with how easy it is to manage on the water. I had stuffed mine with three rods, which included two large overhead reels and a spinning reel, with no problem. For anyone with a lack of internal storage big enough for rigged rods, I whole heartedly recommend!
The trip to Jew Shoal was uneventful. The breeze was cool, and coughed back enough spray from paddling to make it mildly irritating. A lone stinky greeted our arrival at JS, and we all promptly set about hunting the bottom for fishy treats.
I started by drifting a weighted half pilchard on one rod, while monitoring a half pilchard on my casting rod. After a few chews and some lost bait, I had my first taker of the day.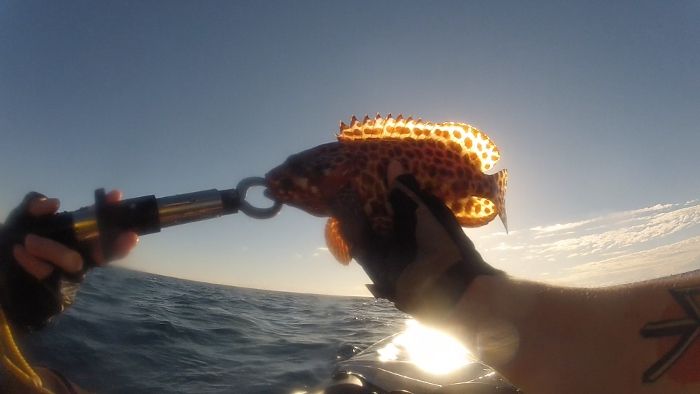 A little wire netting cod, which I then released.
I fed the tiddlers some more bait for a while while the breeze pushed us around. At some stage during my drift I refreshed the bait on my drifting rod and cast it out as normal, but I had only just placed it into the rod holder when the reel started to buzz away madly. I radioed my situation and started to bring whatever it was in, as it darted around a bit and took some line. I had it picked as a mackerel, although I hadn't really expected to see any today. Sure enough it was a mack, and I had Sunshiner confirm it as a school variety. (no decent on water shots, pics to come towards end of report)
At the end of this drift I had a brief chat with one of our newest members Mahatma, who told me of the little joy he was having. Mid conversation I pulled up another little cod of the black tipped variety (who promptly went back in).
Mahatma on his Eco Ambush.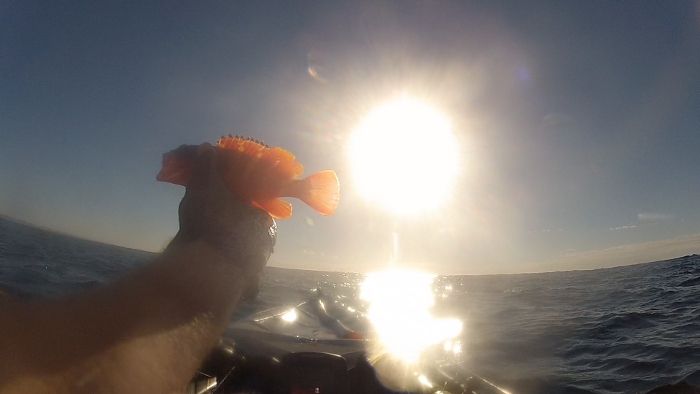 Barely a mouthful there.
I restarted my drift and fed plenty more tiddlers. Hopefully with all the small fry I've fed today it will mean some fatties will be around soon.
Towards the end of this drift my unmanned line took off again. I had assumed it had been baited, as it had been out for some time with no noticeable action, but apparently not. Like the schoolie I had before, this guy ran around a bit, coming up right under the yak. I boated him and added him to my collection. Both fish taken on a lightly weighted half pilly with no wire.
I had one final drift without much action. I did hook this little guy which I wasn't familiar with though. Anyone care to ID?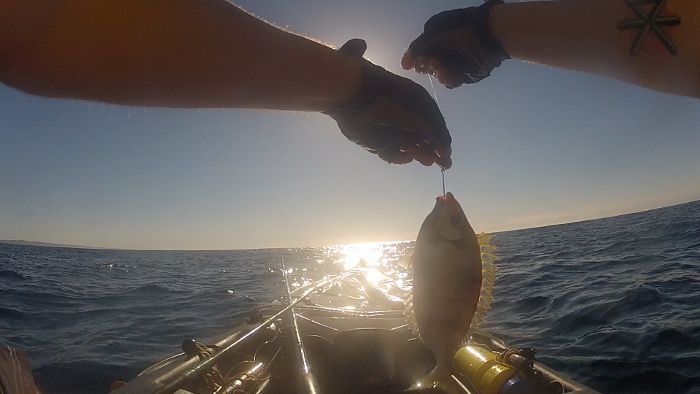 We all pulled the pin at pretty much the same time, with Tarzan making contact midway through our trip back. He told us he had fished A-Bay reef for a keeper sweetlip, and was also making his way back in.
Landing was uneventful, except for one striking event. Mahatma rode his yak back through the breakers...backwards. I was still stripping rods out the back on the other side of the wall at the time, but from all reports it was flawlessly executed. I think that's one we need to have on video for the archives!
Once on the beach we took the obligatory series of fishy photos and exchanged stories.
Tarzan's sweetie.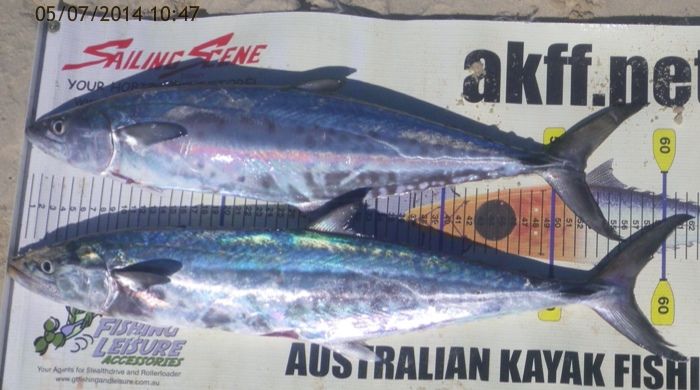 Schoolies.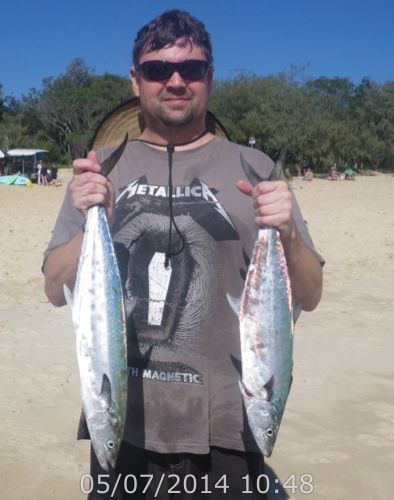 The lack of readily available fish holders means your stunning model for today is...moi.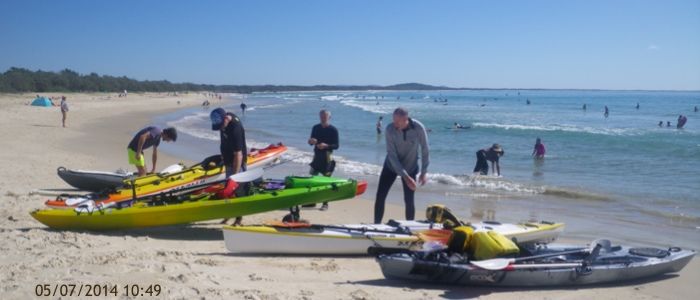 I'm sure there is something I've missed which Sunshiner mentioned I should include in my report, but my caffeine levels are running low and sleep is fast approaching. I'm sure I'll remember tomorrow. :)
Cheers!
Gemini